Eclipse mania is gripping a narrow ribbon of the US, running diagonally from Oregon to South Carolina. Millions of Americans armed with protective glasses have staked out their positions to watch the moon blot out the sun in what promises to be the most observed and photographed total solar eclipse in history.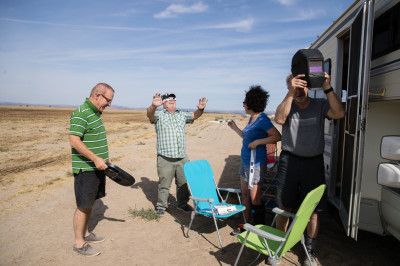 Some 12 million people live in the 2,500-mile-long (4,000-km-long), 70-mile-wide zone of totality, and with 200 million people within a day's drive, towns and parks are braced for monumental crowds keen to marvel at the first total solar eclipse to unfold from coast to coast in nearly a century.
Residents of towns along the path of totality have found ways to capitalise on the celestial blackout, from creating eclipse-themed merchandise to charging eye-watering amounts for parking. Many visitors have had trouble finding lodging, with hotels booked up months in advance and residents charging hundreds of dollars a night for available rooms at short-term rentals websites such as AirBnB.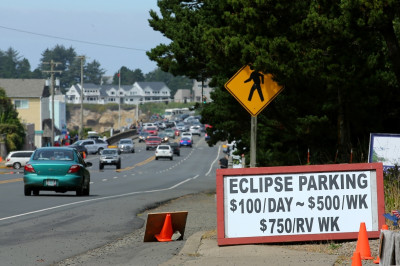 To give everyone a shot at the cosmic drama, many schools are cancelling classes, while offices plan to take a break or close for the day.
Festivals to celebrate the celestial event are being held along the long but narrow path of totality, from Oregon to South Carolina, including Eclipse Fests, StarFests, SolarFests, SolFests, Darkening of the SunFests, MoonshadowFests, EclipseCons, Eclipse Encounters and Star Parties.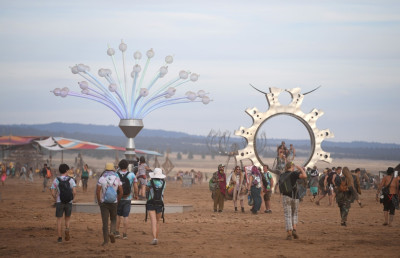 The Earth, moon and sun line up perfectly every one to three years, briefly turning day into night for a sliver of the planet. But this will be the first eclipse of the social media era to pass through such a heavily populated area.
This total eclipse will cast a shadow that will race through 14 states, entering near Lincoln City, Oregon, at 1:16pm EDT, moving diagonally across the heartland over Casper, Wyoming, Carbondale, Illinois, and Nashville, Tennessee, and then exiting near Charleston, South Carolina, at 2:47pm EDT. The path will cut 2,600 miles (4,200 kilometres) across the land and will be just 60 to 70 miles wide.
Many people have trekked to remote national forests and parks of Oregon, Idaho and Wyoming, while others have bought tickets to watch the show en masse in a football stadium in Carbondale, Illinois. In South Carolina, Charleston County's more than 16,000 hotel rooms are booked, tourism officials say. Police expect up to 100,000 visitors to the area.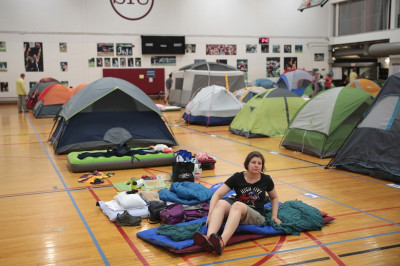 Unlike many other astronomical events, such as comets and meteor showers, that often fail to live up to their hype, a total eclipse is nearly a sure thing, so long as the weather cooperates, experts say. A predictive map issued by Weather Decision Technologies Inc shows clear skies in the West, clouds in Nebraska and northwest Missouri, and partly cloudy conditions farther east.
The sun's disappearing act is just part of the show. As the black orb of the moon gradually nibbles away at the sun's face, the heavens dim to a quasi-twilight, and some stars and planets emerge. Shadows on the ground seem to deepen, sunset-like colours streak the sky at the horizon, the air grows still, temperatures drop and birds cease to chirp as they settle in trees to roost. The last glimmer of the sun gives way to a momentary sparkle known as the "diamond ring" effect just before the sun slips completely behind the moon, leaving only the aura of its outer atmosphere, or corona, visible in the darkness.
The overall display as seen at each point along the eclipse path, including the partial phases before and after totality, lasts nearly three hours. Shawnee National Forest in southern Illinois will see the longest stretch of total darkness: 2 minutes and 44 seconds. People in parts of South America, Africa and Europe will see a partial eclipse.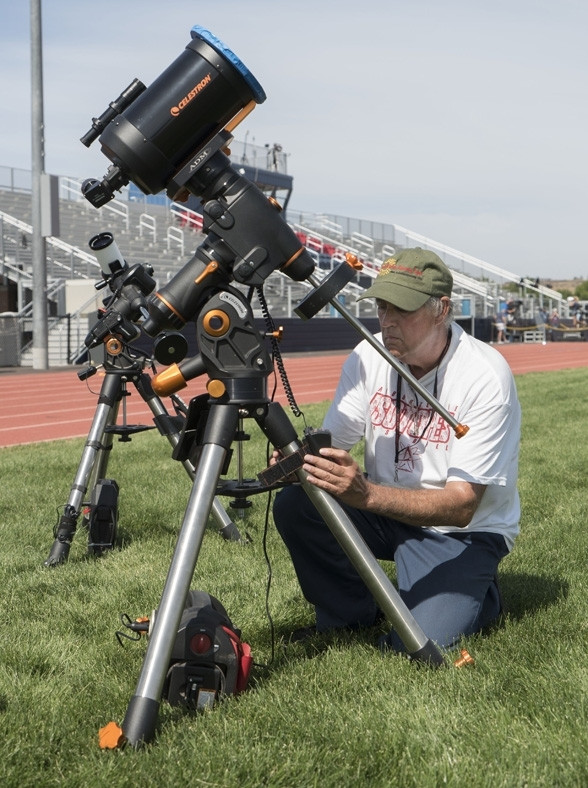 The moon hasn't thrown this much shade at the US since 1918. That was the country's last coast-to-coast total eclipse. In fact, the US mainland hasn't seen a total solar eclipse since 1979 — and even then, only five states in the Northwest experienced total darkness.
The next total solar eclipse in the US will be in 2024. The next coast-to-coast one will not be until 2045.