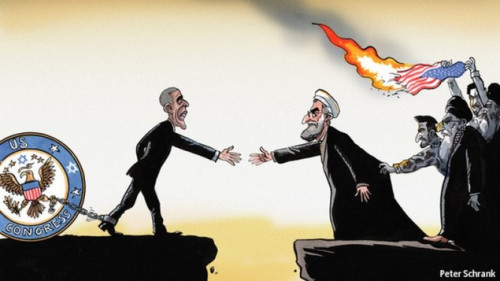 The Economist magazine has been accused by the Anti-Defamation League of publishing an editorial cartoon that was deemed anti-Semitic by some observers.
The cartoon, now removed and replaced on the website with a picture, portrays US president Barack Obama, chained by a seal of Congress coated with a Star of David, while he tries to shake hand with Iranian president Hassan Rouhani – who is held back by extremists burning the star-spangled banner.
An editor's note at the bottom of the web version read: "The print edition of this story had a cartoon which inadvertently caused offence to some readers, so we have replaced it with a photograph."
But the ADL said the Economist "cannot repair the damage of publishing an anti-Semitic image with only half-measures".
The group said the cartoon is "depicting President Obama as hindered in his efforts to reach an agreement with Iran by the machinations of a United States Congress under the control of a nefarious Jewish lobby".
Abraham H. Foxman, ADL national director, said: "They owe their readers a full-throated apology, which not only acknowledges the offensive nature of the cartoon but explains to readers why this image implying Jewish control was so outrageous and hurtful."
The cartoon was also removed from the site's Middle East & Africa section.