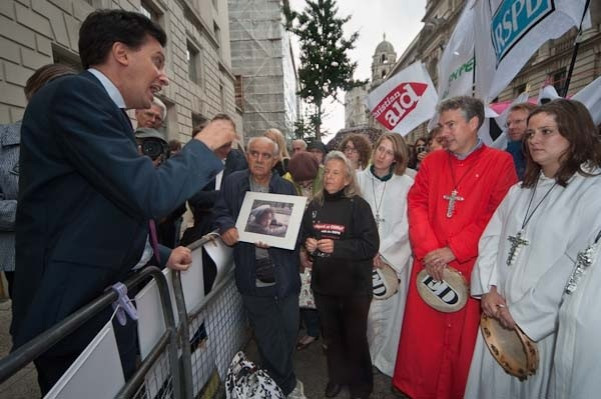 Labour leader Ed Miliband has been warned to change his image or risk losing the 2015 General Election by former Home Secretary Alan Johnson.
Speaking out ahead of next week's Labour party conference in Manchester, Johnson called on his boss to be more like a prime minister in waiting.
Writing in The Guardian, Johnson counselled: "Whilst I personally don't believe that a prime minister who is more popular than his party can deliver an election victory...Ed Miliband has to do more to demonstrate that he is a leader."
He added that Miliband "knows better than anyone that an opinion poll lead is not enough".
Some commentators believe Johnson's latter comment was a reference to the 2010 Labour leadership contest, in which the opinion polls suggested a convincing victory for David Miliband - only for brother Ed to take victory by a small margin in the final round of voting.
Following his victory, Ed Miliband was accused by some critics of being a usurper, and of depriving Labour of a natural leader figure.
Comprehensive confidence
Meanwhile, the Labour leader has been speaking to reporters about the benefits of his state school upbringing - an apparent attempt to draw a contrast with the Conservative Party, led by former public schoolboys David Cameron and George Obsorne.
Speaking to Metro, Miliband said: "[I] can feel the pain lots of people are feeling and the struggle in their lives. That's the most important thing about me.
"I'm someone with my feet on the ground. I went to my local comprehensive and that was an incredibly good education for me, not just about how to pass exams, but about life.
"I don't think I would be leader of the labour party if it was not for my comprehensive school education. It teaches you about life and how to get on with people from all backgrounds, and that the world has lots of diverse and different people."
Ahead of the party conference, Miliband also explained his new slogan, Rebuilding Britain.
He said: "The theme will be how we rebuild the whole economy for all, and not just for the few people at the top."