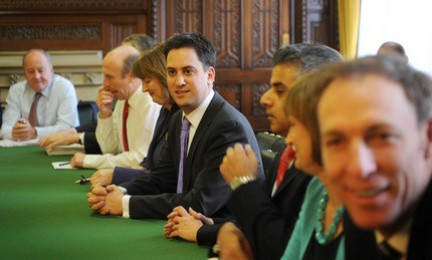 There were some notable omissions from Ed Miliband's big conference speech, no mention of the LibDems for example. But the one that has worried some on his frontbench the most is is that he failed to name check any of them. Reshuffle fever has, inevitably, erupted.
Clearly the key aim of Miliband's speech was to portray him as a prime minister-in-waiting, so it was all about him.
But he needs a powerful, united and effective team around him and, as this summer confirmed, the current batch just aren't doing the business.
His wider team of advisers has also come under fire for failing to have the same focus as David Cameron's team, led by controversial-but-effective "Wizard of Oz" Lynton Crosby and Obama's former adviser Jim Messina.
He has already started to address that, with the appointment of former Sunday Telegraph Political Editor Patrick Hennessy to the communications team.
Hennessy knows his way around the media and is well liked and respected amongst political journalists. He should help sharpen Labour's focus in that area.
Old regime
It is a fool's errand to try to predict exactly which shadow ministers will end up in which posts when Miliband finally wields the axe. But there are a couple of things that can be predicted.
Firstly, Miliband will want to mark the final break with the old regime, so those hangovers from the previous Labour government should start planning to have a bit more free time.
Some in the party have been arguing for the return of "big beasts" such as former Home Secretary Alan Johnson and ex-Chancellor Alistair Darling. But Miliband is reluctant to be seen looking to figures associated with the last government, or Tony Blair. He wants something new.
That could mean Blairites including Shadow Foreign Secretary Douglas Alexander, Jim Murphy and Liam Byrne are in his sights although all three are pretty effective, reliable performers but were fairly invisible during the summer.
It is also thought Education spokesman Stephen Twigg may be under threat for failing to make much impact against the government's Michael Gove.
The fresh faces Miliband almost certainly wants to put in the front line during the election battle include Shadow Treasury Secretary Rachel Reeves, Shadow Health Secretary Andy Burnham and Shadow Business Secretary Chuka Umunna.
He may also want to promote more women including Stella Creasy, who had a particularly good summer with her campaign against Twitter trolls, and Liz Kendall.
Reshuffles are, however, very dangerous things and if Miliband gets it wrong he could well find any post-conference bounce will be forgotten as he is accused of botching it.