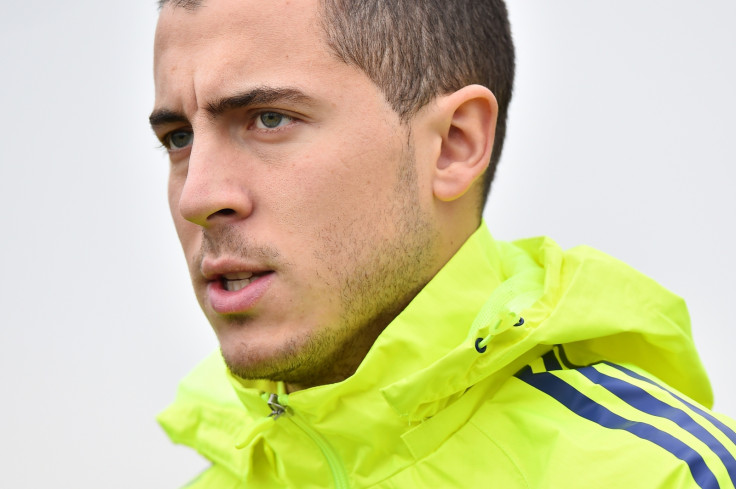 Chelsea winger Eden Hazard has again denied having any interest in joining Paris Saint Germain just days after signing a new contract with the Premier League leaders.
The Belgium international penned fresh terms with the west London club until 2020 after mounting speculation regarding his future, which had seen him constantly linked with a return to France.
On the eve of the Champions League last 16 first leg between PSG and Chelsea, Hazard has been forced to quash speculation of any interest in moving to the French capital, despite signing a contract just last week.
"Personally, there has never been anything with PSG," Hazard told TF1. "I knew from the start I wanted to stay. I don't want to move, I'm good here."
The tie sees a repeat of last season's thrilling second round clash which saw Demba Ba score late on at Stamford Bridge to see the west London club turnaround a first leg deficit.
Ezequiel Lavezzi, David Luiz's own goal, and Javier Pastore's strike gave Laurent Blanc's side a 3-1 first leg lead but the Blues were still able to surge through and despite the fortuitous nature of the result, Hazard says his side are favourites again.
"Last year wasn't a miracle," he insisted. "If you look at the first leg, we didn't deserve to lose 3-1. It was a little fortunate, because we scored late on, but we didn't rob anyone.
"This year, it'll be a different encounter. We're on a good run, we have strengthened our squad. Paris are having a few more problems, but they have a lot of great players. They'll be ready.
"I think it's 50/50. For the football world, we're perhaps favourites, but you never know what will happen."
Possessing the physiological edge of having prevailed last season, Chelsea are a vastly improved side from 12 months ago, having added Diego Costa and Cesc Fabregas to their artillery during the summer.
"We have other quality players. Fabregas came in and he did us a lot of good. Diego arrived, and he has scored a lot of goals for us.
"Last year, I was not alone, that would be a lack of respect to the others, but I was counted on more. Now, I'm not alone on the pitch. But when I play, Chelsea generally play well too.
"In France, other than in my last season, people always criticised me for not being decisive enough. Little-by-little, I'm starting to take that on.
"I'm decisive more often, especially in big matches. I'm continuing my progress. I have just turned 24 and I think I have already done quite a few good things in football. Now, I of course want to score more goals and provide more assists."