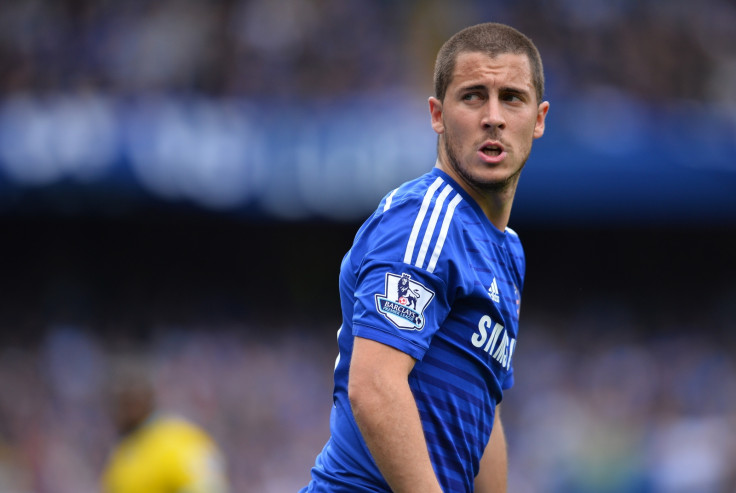 Chelsea winger Eden Hazard says a phone call from Didier Drogba and the club's success in winning the Champions League in 2012 convinced him to move to Stamford Bridge.
Hazard moved to the Blues in the summer of 2012 from Lille in a deal worth a reported £32m and has flourished in the Premier League, winning the PFA Players' Player of the Year award while helping the club win the title.
But the 24-year-old admits it could have been different had Chelsea not won the Champions League in 2012 after a penalty shoot-out win over Bayern Munich, while a personal approach from Drogba eventually persuaded him to join.
"I didn't want to go to Chelsea because I wanted to play the Champions League and they were sixth in the league," Hazard told the Daily Mirror. "I was convinced when they won the Champions League in 2012.
"At the time, Roberto Di Matteo really wanted me, they had Juan Mata, and Oscar had been bought. I was told: 'You'll see, Chelsea will play football'.
"Gervinho called me and said: 'Someone's on the phone'. I didn't know who it was but it was Drogba, he wanted me to sign.
"I was flattered, he was maybe the best striker in the world. In my head, I wasn't going to sign, but in the end I was very pleased with my choice. I didn't speak to Abramovich. I don't know why coach Garcia wrote that in his book."
Drogba scored the decisive penalty in the shoot-out win over Bayern after having equalised in normal time after Thomas Muller had seemingly put the German club on course for victory. The Ivorian would go on to leave Chelsea for Chinese club Shanghai Shenhua.
Under Roberto di Matteo, Chelsea were set to miss out on qualifying for the Champions League but victory in the final in Munich saw them replace fourth place Tottenham Hotspur as the fourth English representative in the competition.