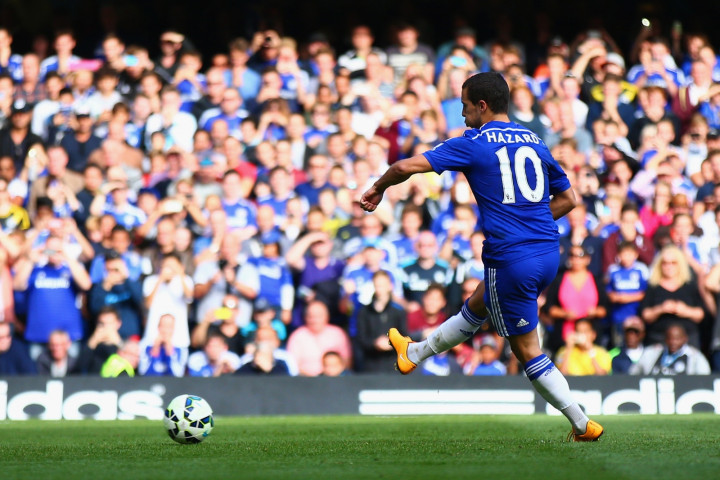 Eden Hazard has firmly ended speculation linking him with a return to France to join Paris Saint-Germain (PSG) - but believes he will leave Chelsea one day 'to discover something new.'
The Belgian international believes he has enjoyed the best start to a season in his career having helped Jose Mourinho's side grasp early control of the Premier League title race.
Paris Saint-Germain attempted to lure the 23-year-old to the French capital during the summer transfer window but both Hazard and the Blues resisted their attempts. The playmaker is now on the verge of signing a new long-term deal at Stamford Bridge that is likely to make him one of the club's best paid players.
Having already won every personal accolade there is to win in France on top of a league title with Lille three years ago, Hazard believes there are challenges left for him in Ligue 1 – but has not ruled out seeking one elsewhere in Europe.
"I've always been clear – I feel good at Chelsea," Hazard said, the Daily Telegraph report. "Every week I repeat the same on PSG. It is a big team, but an inferior league. I don't want to return to France, because I've won everything over there, the league title, cup, best player, best young player.
"I don't want to say PSG is a step backwards, but it would be returning to something I already know. I'm always in for new challenges. When I will leave Chelsea one day, it would be to discover something new."
One of Hazard's remaining goals is to firmly establish himself as one of the game's best players. The former Lille star admits he is still a step behind 'extra-terrestrials' Cristiano Ronaldo and Lionel Messi but believes he is closing the gap.
"I'm not a top-five player yet," Hazard continued. "Maybe I am close to it, but I still have to work on some aspects. You can only be part of that group if you are decisive in the top games. I start doing that, like I did against Manchester City and Arsenal.
"Who are better than me? The two extra-terrestrials, Ronaldo and Messi - Ibrahimovic, Ribery, and Robben. They make the difference almost every game."