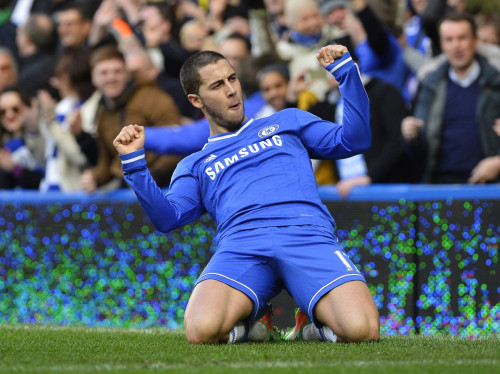 Eden Hazard's former boss at Lille has revealed that Didier Drogba and ex-Arsenal striker Gervinho played a key role in the deal that saw the Belgium star making the move to Chelsea.
The Blues signed Hazard in summer 2012 after paying around £32m, beating other European giants like Real Madrid, Paris Saint Germain or Manchester United who were also interested in acquiring the services of one of the most prolific young players in the world.
Lille's then-manager Rudi Garcia reveals in his autobiography how Chelsea owner Roman Abramovich convinced Hazard to join the Blues with Drogba's and Gervinho's help.
According to Garcia, Drogba called his compatriot Gervinho, who played for Lille at the time, and asked him to pass Hazard the phone to talk with Abramovich.
"Pass the phone to him. There's someone who wants to talk to him over here," Drogba said to his national teammate.
Abramovich then allegedly told Hazard: "I don't know how much you earn at Lille, but I will triple your salary."
Just a few months later Hazard joined Chelsea while his then-teammate Gervinho moved to rivals Arsenal.
Hazard was named in the PFA Team of the Season and won the Europa League in his first campaign at Chelsea, while this season even Jose Mourinho has praised him, saying he is the best young player in the world.
The 23-year-old is enjoying a coming-of-age season. He has already scored 12 goals and grabbed seven assists in just 26 Premier League games, improving last year's Premier League goal tally when he netted nine.