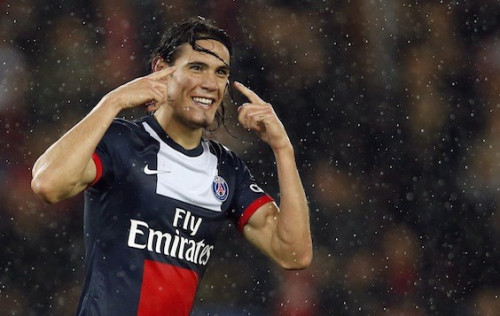 Paris Saint Germain striker Edinson Cavani has indicated he is very happy in the French capital amid speculation suggesting Manchester United will try to tempt him to Old Trafford.
With David Moyes now possessing some new found impetus in the transfer market a number of reports in recent weeks have suggested the Premier League champions will look to bolster their attack with the Uruguay international with the future of Wayne Rooney still uncertain.
Suggestions that Cavani is unhappy while he remains in the shadow of Zlatan Ibrahimovic at Parc des Princes fuelled speculation that the striker would consider a move just half a year on from his £55m move from Serie A.
Despite scoring 13 goals in 19 league games for PSG this season the former Napoli star has frequently been asked to play out wide rather than in his preferred spot up top, but the 26-year-old has dismissed claims this has made him question his future.
"Play on one side? I have already said that the most beautiful thing is to play," Cavani told the Italian press, via Foot Mercato. "If I have to play on the wing, I would fit. The most important thing is to be on the field. I am focused on my personal and collective goals with PSG. I learn, we south Americans, we adapt."
PSG head coach Laurent Blanc was also quizzed on the possibility of United making a move for his striker. But rather cryptically, the former France international told reporters players of Cavani's calibre are not usually available during the January transfer window, leaving the door open for a possible enquiry in the summer months.
"It's is clear that is almost impossible to sign any PSG player until the end of the season," Blanc told reporters last Friday.
"Cavani to Manchester United? We are also interested in many players. You cannot tell clubs to not be interested in PSG players but interest is one thing and signing them is another."