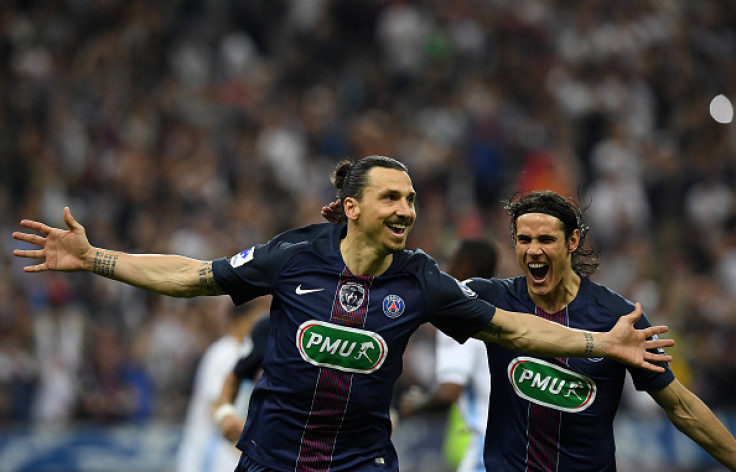 Manchester United and Real Madrid have been handed a blow in their pursuit of Edinson Cavani after his agent Claudio Anellucci admitted that he will not be leaving Paris Saint-Germain this summer. The Uruguayan forward has constantly been linked with a move away, but is said to be keen to stay and fight to win the Champions League with the Ligue 1 club next season.
The French club are losing top scorer Zlatan Ibrahimovic, who is set to leave the club following the expiry of his contract and they are not keen on losing two of their top stars in the same transfer window. It is widely reported that the Sweden international will be joining the Red Devils, who are close to appointing Jose Mourinho as their new manager following the sacking of Louis van Gaal earlier in the week.
Cavani will finally be able to make the central striking role his own after playing second fiddle to the former Inter Milan and Barcelona forward in recent seasons. The Uruguay international was constantly being played in the wide positions, something he was not happy with and made it clear to the manager that he wanted to be played in his preferred No 9 position.
According to ESPN, the 20-time English champions are keen admirers of the striker and were strongly linked with a move in January, but were reluctant to spend big midway through the campaign. The striker would have commanded a price in the region of £32m ($47m) after close to three prolific seasons at the Parc des Princes.
The 29-year-old forward, who scored 25 goals in 52 appearances in all competitions in the recently concluded campaign, has expressed interest in playing in the Premier League in the past, but his agent has ruled a potential move suggesting that he is keen to remain and with the Champions League with PSG. Anellucci also addressed concerns regarding the potential arrival of Gonzalo Higuain as Ibrahimovic's replacement. The Argentinean was the top scorer in the Serie A and has been linked with a move away from current club Napoli.
"I do not think that it is at all possible for [Cavani] to quit PSG. After the departure of Ibrahimovic, PSG want to keep their existing squad and reinforce in order to win the Champions League. PSG cannot lose two strikers," Anellucci said, as quoted by the Sun.
"If he came to PSG, Cavani would be happy because it is always a good thing in terms of winning the Champions League," the Uruguayan forward's agent added.