Since July, the collapse in world oil prices has been the talk of global financial markets. Brent crude oil, the global benchmark, has fallen from $115 per barrel to under $69 today, a price not seen since 2009 (Figure 1).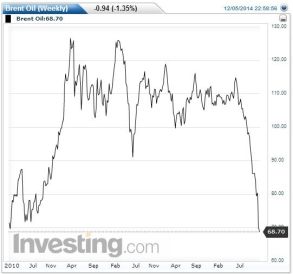 This has been painful for investors holding oil and gas stocks such as Royal Dutch Shell (RDS) or BP, with Royal Dutch Shell shareholders nursing losses of 10% since June, and BP shareholders an even more painful 15% loss since June.
Merger and acquisition activity hots up in oil
There have been a number of consequences of this sharp oil price fall, one of which has been an increase in merger and acquisition activity in the global oil and gas sector.
For instance in oil services, Halliburton is in the process of taking over US rival Baker Hughes for $35bn. But perhaps the biggest potential takeover in this sector is still ahead of us...
Could Royal Dutch Shell buy BP?
This sounds ridiculous at first flush – after all, BP is a giant company worth over £136bn at its current 425p share price (as of 5 December). However, it is perhaps not such an outlandish notion upon reflection.
First of all, at today's 425p BP (code: BP.L) languishes some 34% below its 640p share price reached in March 2010, before the Deepwater Horizon disaster in the Gulf of Mexico took place, costing BP $27bn dollars (so far) in clean-up costs and damages.
In sharp contrast, RDS's A shares (code: RDSA.L) have gained 13% from 1910p in March 2010 to 2149p now (Figure 2).
As a direct result of this widening gap in relative share price performance, BP is now only worth 64% of the total market value of Royal Dutch Shell, down from almost level pegging back at the end of 2009 (Figure 3).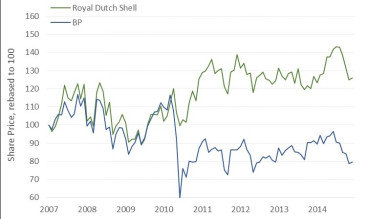 Are BP's shareholders fed up with Waiting for Godot?
We could well argue that BP's longstanding shareholders are becoming fed up of waiting for the company to regain the 640p level seen pre-disaster back in April 2010.
BP's sale of its share in the Russian TNK-BP joint venture in return for 20% of Russian oil company Rosneft is not proving a great success.
This stake is worth 38% less today than it was back in early July, thanks to a nasty combination of a falling Rosneft share price together with a collapse in the value of the Russian ruble on the back of international sanctions.
There has been increasing press speculation of late regarding a possible Royal Dutch Shell-BP tie-up, with a mooted £5 per share bid for BP equating to 16% more than Friday's closing share price, financed presumably by the issue of new Royal Dutch Shell shares.
The new Anglo-Dutch oil and gas combo would rank second by size in world oil and gas giants, only a fraction behind the US behemoth ExxonMobil (Figure 4).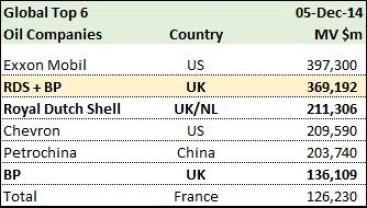 Edmund Shing is the author of The Idle Investor (Harriman House), an expert columnist and a global equity fund manager at BCS AM. He holds a PhD in Artificial Intelligence.