Why is deflation always treated as a dirty word?
When the term deflation is mentioned, the so-called "lost" decade in Japan or the American Great Depression of the 1930s is usually evoked, periods where the economy in question contracted over a long period, resulting in mass unemployment and lower wages.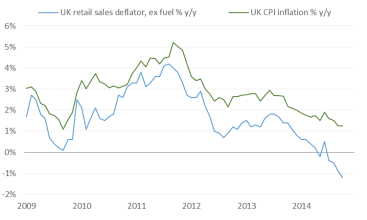 But it is not all dark - There can be a "good" side to deflation too! The UK Government's preferred measure of consumer price inflation (Figure 1, green line) has fallen to only 1.3%, its lowest level for 6 years.
For avid Christmas shoppers, the second, blue line in the figure is great news, as it demonstrates that high street prices are on average 1.2% lower than in November 2013!
So as far as presents under the Christmas tree are concerned, our money should go further this year than last.
That is the positive facet of deflation that we can all enjoy – after all, who doesn't like to snap up a bargain in the shops?
Strong growth and falling inflation: A rare combination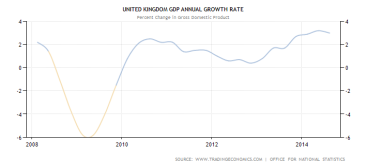 What is interesting at the moment is that this period of falling shop prices is coinciding with relatively fast economic growth in the UK.
In the third quarter (July-September), the UK economy (as measured by Gross Domestic Product) grew by an annualised 3% growth rate (Figure 2), among the fastest growth rates since 2007.
Today, this growth and deflation combination is being encouraged by lower commodity prices, most notably petrol and food prices (Figure 3).
As these two categories represent a large percentage of a typical household's regular spending, no wonder that purchasing power is being boosted as a result.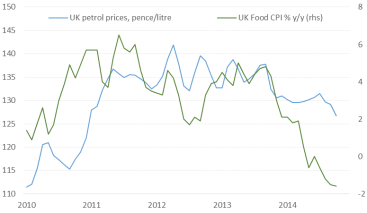 Much of this growth is coming from the service sector, an area which the UK tends to excel in (think of financial services including banking and insurance, or media services such as advertising, where the UK tends to lead the world).
Where can we invest to profit from this phenomenon?

Option 1: Low-cost airlines
On these rare occasions when inflation falls but economic growth is booming, what are the best areas to invest in?
First of all, let's outline some general principles. When the economy is growing at above its long-term trend (normally 2.5% or more), so-called "cyclical" sectors which are tied to the prevailing economic trend tend to lead the stock market.
These include manufacturers in sectors such as Machinery and Aerospace & Defence, plus service sectors such as Media, Transport and finally selected financial sectors such as Insurance.
Bearing in mind the relatively sharp fall in oil prices since July, at the stock level I would focus within the Transport sector on low-cost airline stocks such as Ryanair and easyJet, which get a profit boost from lower fuel costs, plus a benefit to sales from higher passenger numbers as UK consumers flock abroad in search of cheap holidays.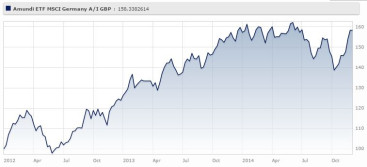 Option 2: The German stock market
An alternative is to invest in a highly cyclical economy such as Germany.
The country's DAX stock market index is dominated by cyclical manufacturing stocks such as Volkswagen, Daimler and BMW in Autos, BASF and Bayer in Chemicals and Siemens in Industrials.
In addition, the DAX index is not held back by under-performing Oil & Gas stocks as is the case for the FTSE 100, as there are no large-cap German oil companies.
An easy way to invest in the German stock market is the Amundi MSCI Germany UCITS ETF (Figure 4), which is listed on the London Stock Exchange (LSE code: CG1) and is priced in pounds (last price: £147.57).