I have to admit, I did chuckle when I saw the profit warning lurking within Foxtons' recent results. I have long detested "flash" Foxtons, a London-centric estate agent chain with ultra-trendy offices and its distinctive green and yellow-liveried Minis.
It has been a big beneficiary of the recent London property price bubble. But now, it is beginning to display the hangover-like signs of "the morning after the night before", with housing transactions slowing sharply, sending Foxtons' top-line into a tailspin and its share price to 158.5p now, versus a peak of nearly 400p (Figure 1).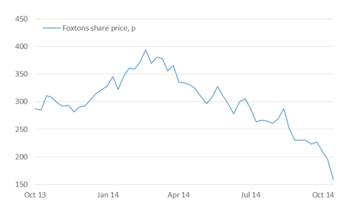 According to the latest Royal Institute of Chartered Surveyors (RICS) market survey, surveyors are now expecting prices to fall in London and to decelerate elsewhere in the UK. Already, London buyer demand has fallen for the last five months in a row and new buyer enquiries have also collapsed.
So, are cracks finally appearing in the UK's housing boom? I should at this point declare a personal interest: my wife and parents have been badgering me to buy a pied-à-terre in London where I work for many months now. My protestations about how expensive and dangerous the London property market is have rung hollow as the capital's property prices have continued to climb month after month.
Earning income from buy-to-let in a zero interest rate world
With private sector rents increasing repeatedly by more than the rate of inflation, cash deposits earning virtually nothing in the bank and house prices enjoying a steady climb, the incentive to own your own home is clear. Vast swathes of people in this country swear by the mantra that house prices never go down over the long term.
So of course I see the argument for owning your own home, even if economists such as Danny Blanchflower and Andrew Oswald maintain high home ownership worsens labour mobility and thus represents a long-term drag on the economy.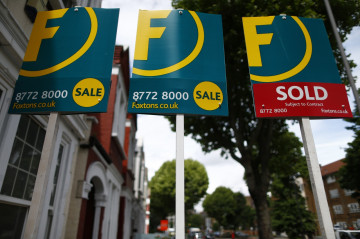 It is where a buy-to-let housing investment is concerned that I have my objections. Yes, there are times when buying a flat or house to rent it out makes sense, typically when prices have fallen or have been stagnant for a number of years, throwing up value opportunities as we saw last in 2008-09 after a 20-30% drop in house prices nationwide.
Contrast that with the prevailing situation: house price inflation over the last five years has far outstripped both the general rate of inflation and also wage increases, making housing progressively less affordable to the average UK household even with two salaries. It is certainly difficult to call this value for money in a long-term context.
This is not to mention the myriad costs and risks a new buy-to-let investor faces, such as:
transaction costs, most importantly stamp duty when buying a property, 3% or more on properties worth over £250,000
refurbishment costs, typically underestimated by new home buyers by £3,000 on average
initial furnishing costs, if letting on a furnished basis
the vacancy risk, where there is no rent coming in but costs to bear
default risk, where the tenant does not pay rent owed on time but refuses to move out
maintenance costs
annual service charges and ground rent on leasehold flats
managing agents' fees for finding tenants, higher if also managing the property
income tax to pay on rents received (less allowable costs) and potentially capital gains tax too on gains when reselling the property hopefully at a higher price.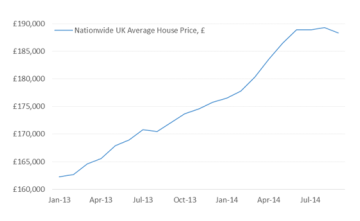 While this list is non-exhaustive, it is an important checklist for any budding buy-to-let investor to consider before bringing out the cheque book.
So when to buy? Not just yet...
A number of sources such as RICS, Hometrack and Nationwide point to slowing national price growth and outright price declines in London (Figure 2).
Add in a negative seasonal effect too - UK house prices grow much faster during spring and summer, and often fall back over winter. Given these facts, now is a good time to sit on your hands and let sellers sweat pushing up average discounts of achieved to asking prices, while spring 2015 could be a better time to find properties at more reasonable prices, especially in and around London.