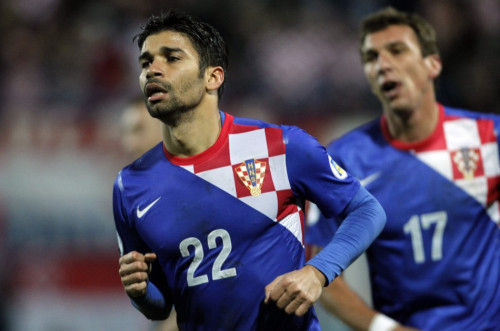 Shakhtar Donetsk striker Eduardo has revealed that he will be willing to return to Arsenal should the Gunners make an approach for the forward in January.
The Brazil-born Croatian striker scored 21 goals for the Gunners during his three-year stay at the club before a career threatening leg break against Stoke City saw him miss up to two years of football. The forward came back into the squad in 2009 but failed to rekindle his form before the injury and was subsequently sold by the Gunners to the Ukranian side.
The Gunners are in the market for a striker and Eduardo, who has been in good form recently will be a good option to fall back on. The 30-year-old has scored six goals already this term and has re-asserted his desire to move back to the Emirates. The Metro believes that Arsenal have to fight Inter Milan for his signature, with the Serie A club also keeping a close eye on the forward.
"Of course I'd like to go back to Arsenal. I don't know anything about their interest, but everybody knows that when I left, everything was done in a friendly manner. I'm still friends with Arsene Wenger and have spoken to him several times. I still have many friends that live in London too. I want to play more ahead of the World Cup," Eduardo said.
The Gunners have been linked with a lot of strikers in January, with the likes of Diego Costa, Alvaro Morata and Mario Mandzukic all being an option for Arsene Wenger. However, the Frenchman has refused to yield as yet and is presumably looking for a stop gap option which will allow them to splash the cash in the summer, when it is easier to get the best players.
Eduardo is known for his prolificacy in front of goal and will give Wenger a different option to Olivier Giroud, who uses his physicality to create space for other players around him. The loss of Theo Walcott for the rest of the season is also a major blow, something which the 64-year-old is willing to address.