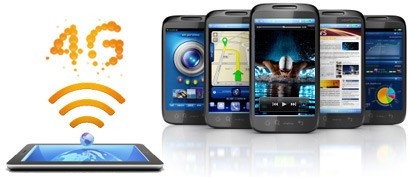 We put EE's new 4G network to the test to see if it really is that much faster.
Following the launch of EE's 4G network this morning we were given the chance to test out the speeds of the 4G network which will be coming to 20 million people in the UK by this Christmas.
We were given one of the handsets it will be offering EE customers once the network launches in the coming weeks, the HTC One XL which we put up against the HTC One S which is running on the newly re-branded EE 3G network.
As you can see in the video, the HTC One XL easily out paces the One S in download, upload and ping times - which measure the responsiveness of the network.
EE's official line is that the new 4G LTE network will be five times as fast as its 3G network. However the LTE technology it uses has a theoretical speed of 100Mbps which is well over 10 times the best consistent speed you'll currently get from 3G in the UK of around 7Mbps.
In our tests we found that the EE 4G network gave us a download speed of around 30Mbps but we did see it go as high as 42Mbps in one test, while the 3G network was returning speeds of between 5Mbps and 6Mbps. However on other networks being tested in the same room, such as Vodafone and O2, the results seemed even lower.
Obviously numerous factors will play into how good the download speed is, including location and the number of people on the network at any one time.
4G will undoubtedly be a major bump up in terms of performance from the current 3G network, but we will have to test it out in real world situations before making a final call on just how good it really is.