World's Fastest 4G Network Coming to London's Tech City
Mobile operator EE has switched on the world's fastest 4G network, bringing download speeds of up to 300Mbps to London's Tech City.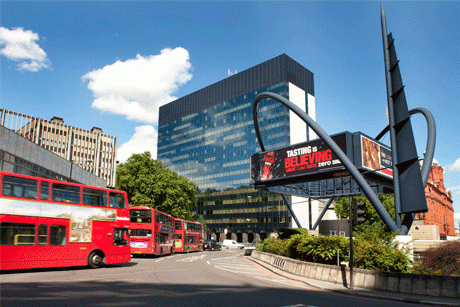 Companies located in the area of east London around Old Street will be the first to get access to the new network, which offers speeds more than ten times faster than a regular 4G connection.
The mobile network's analysts predict data usage to grow "significantly" over the next three years, by up to 750%, as both consumers and companies use the mobile web more than ever through smartphones and tablets.
Tech City's ultra-fast network uses the spectrum EE acquired in the Ofcom auction earlier this year, where Vodafone, O2 and Three also bought the right to use the telecom regulator's frequencies for their own 4G networks.
EE says the launch of the 300Mbps network is "the first part of an infrastructure that can meet the future demands of an increasingly data-hungry nation, enabling us to stay one step ahead of the demand."
Although restricted to the startup hub of Tech City for now, EE says the network will be rolled out across London through 2014. EE told IBTimes UK it is yet to decide prices for the ultra-fast network.
The benefits of such a fast 4G network aren't limited to smartphones and tablets, however; EE suggests television channels could use the connection for relaying outside broadcasts: "A small number of 4G SIMs can replace an entire satellite truck and the rental of a satellite connection."
Fixed addresses
For consumers, the network claims 4K Ultra HD video can be streamed over 4G with speeds of at least 20Mbps. This week, Netflix began public testing of streaming 4K video, but the service requires a connection of at least 15Mbps - slightly faster than the UK's urban average of 14.5Mbps, and much higher than the 3Mbps a fifth of Londoners are stuck with.
Initially, the service will be targeted at fixed addresses, providing a CAT6 Huawei router which takes a 4G signal and broadcasts it as Wi-Fi for up to 20 nearby devices to connect to.
EE expects the first mobile Wi-Fi units to offer 300Mbps speeds be introduced by summer 2014 - also by Chinese manufacturer Huawei - followed by compatible smartphones in the second half of the year.
EE chief executive Olaf Swantee said the 300Mbps network represents " the next age of 4G mobile technology," adding that EE's existing 4G network "delivers incredible mobile data speeds and covers millions of people across the country, but we never stand still. We know that mobile data usage is going to keep increasingly, and rapidly so."
© Copyright IBTimes 2023. All rights reserved.