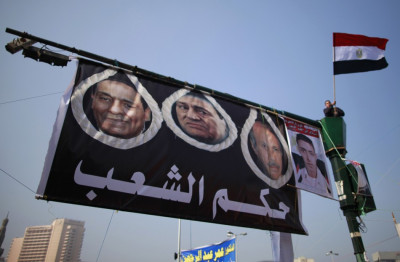 Demonstrations and marches are taking place across Cairo with people heading to Tahrir Square to mark the anniversary of the revolution.
25 January marks the one year anniversary of the Egyptian revolution that led to the stepping down of long-time president Hosni Mubarak.
The Supreme Council of the Armed Forces (SCAF) has since taken power and formed a transitional government.
Recent parliamentary elections have seen the rise of the Muslim Brotherhood's Justice and Freedom party, prompting some activists to fear that demands for more freedom will be pushed aside.
Many grievances remain unanswered as protesters continue to call for the transitional military rulers to hand over power to a civilian-led government.
Since last year several activists, bloggers and protesters have been arrested by the security forces and transferred to military courts, a move criticised by various international rights groups.
Many of the detainees have complained of being abused and physically assaulted by the security forces during their detention.
As demands for more freedom of speech continue to grow, Reporters without borders (RSF) has published its global index of press freedom, which saw Egypt being downgraded from the 127 to the 166th place.
Many protesters stayed in Tahrir Square overnight and put up tents to prepare for the 25 January protests.
They insist the revolution is unfinished as they are unhappy with Field Marshal Mohamed Hussein Tantawi still being in power. Many people have been chanting anti-Scaf slogans and holding anti-military banners.
Close to Mubarak, Tantawi remains a highly controversial figure. In a bid to qualm discontent he announced that the state of emergency, in place almost continually since 1967 would be partially lifted.
He however specified that the emergency law would remain in place for 'acts of thuggery', with activists warning the military has in the past used the term to legitimise their brutal crackdown on protesters.
To mark the 25 January,' almost 2,000 detainees convicted by military courts and 1,250 convicted by civilian courts' have been released from Tora prison, Egyptian journalist Nadia abou el-Magd also wrote on Twitter.