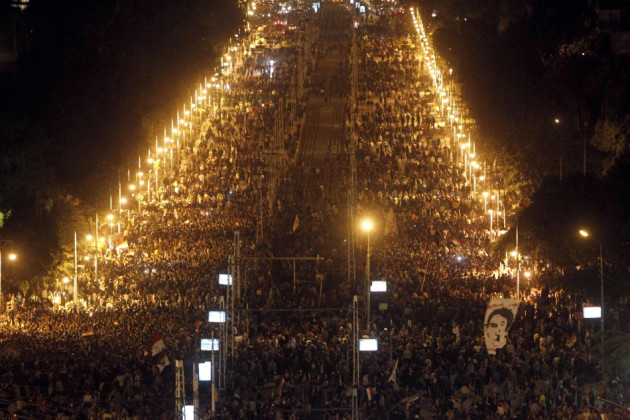 Thousands of anti-Mursi protesters in the Egyptian capital Cairo have braved the cold weather outside the presidential palace as the agitation against the draft constitution shows no signs of abating. The latest round of protest started as a rally and turned into a sit-in.
The opposition groups have been distributing blankets to the protesters to keep them warm as the temperature plunged to 13 degree Celsius.
The protesters also erected barricades in the streets leading to the presidential palace fearing a confrontation with Mursi's supporters.
Although police dismissed reports that the protesters could come under attack from Muslim Brotherhood activists, anti-Mursi groups have stepped up vigilance.
Earlier in the day, scores of protesters marched to the presidential palace after cutting barbed wire barricades.
"We will stay here for as long as it takes and will continue to organise protests elsewhere until President Mursi cancels his constitutional decree and postpones the referendum," a computer engineer and anti-Mursi protester, Ahmed Essam, told Reuters.
The opposition groups have firmly rejected Mursi's calls for dialogue saying the Egyptian president has not budged an inch from his stance. Mursi plans to press ahead with his dialogue plan despite fierce opposition from mainline groups including the National Salvation Front, the liberal Wafd party and the National Association for Change, which have decided to boycott any talks.
"We [want] a dialogue not based on an arm-twisting policy and imposing fait accompli," tweeted prominent liberal politician and Nobel Laureate, Mohamed ElBaradei.
Mursi's latest televised address has further angered opposition groups as he expressed his determination to go ahead with the constitutional declaration and the draft constitution.
Amid the spiralling crisis, Mursi's deputy has hinted at a possible delay in the referendum if the government's demands are met by the opposition. Vice-President Mahmoud Mekky in a statement said Mursi is ready to postpone the referendum if the opponents concede it will not be legally challenged later.
Meanwhile, the Election Commission has postponed voting by Egyptians living abroad. The voting due on Saturday has now been delayed until Wednesday. It is not clear whether this will affect the referendum inside Egypt.