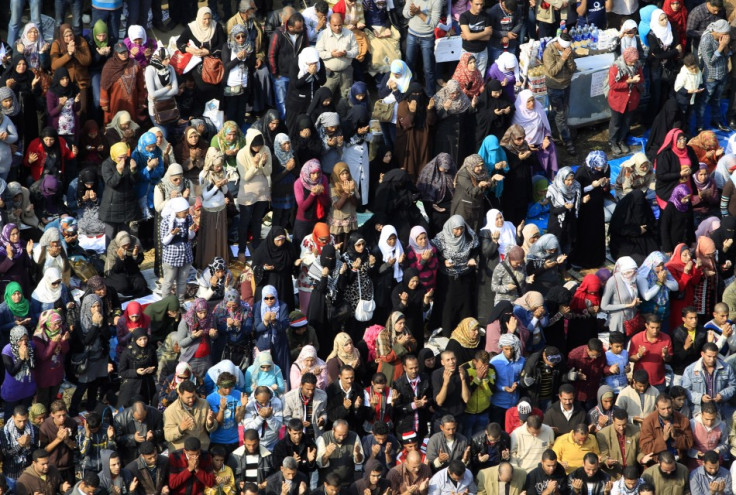 Tens of thousands of protesters have gathered on Cairo's Tahrir Square to demand the army immediately hands over power to a civilian administration.
Organisers have named the rally "the last chance million-man protest" and the call has been backed by the one of Cairo's top Imam's, Sheikh Ahnmed al-Tayyeb the grand imam of al-Azhar, who leads the main Friday prayers.
Hassan Shafie an aide of the Imam, was shown on local TV telling the Tahrir Square demonstrators "The grand imam backs you and is praying for your victory," it was also reported.
Following death of unrest, the military this week apologised for the death of nearly 40 protesters in clashes between demonstrators and security forces.
"The Supreme Council of the Armed Forces (Scaf) presents its regrets and deep apologies for the deaths of martyrs from among Egypt's loyal sons during the recent events in Tahrir Square," it said on its Facebook page.
"We will not delay elections. This is the final word," General Mamdouh Shaheen said.
Authorities have also announced that Kama al-Ganzouri, who was Prime Minister under Mubarak from 1996 to 1999, had accepted to lead a so-called national salvation government after holding talks with Mohamed Hussein Tantawi, the leader of the Supreme Council of the Armed Forces (SCAF).
However protesters continue to call for the postponement of elections set to start Monday and want an immediate transfer of power as they fear the army will try to cling on to power.
Outside of Cairo, the call has received mixed reaction as many Egyptians still want the polls to go ahead.
The Muslim Brotherhood which has seen an increasing popularity in recent months and is set to do well in the vote does not support the protests and has also called for the vote to go ahead.
A rival demonstration in favour of the elections is taking place near the interior ministry building.