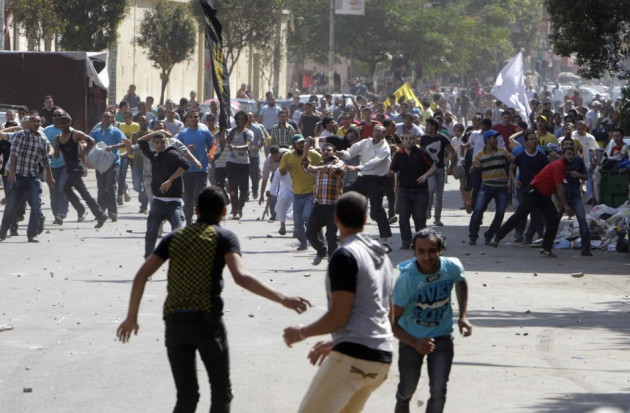 Clashes have erupted between supporters of ousted Egyptian president Mohammed Morsi and security forces in the cities of Cairo and Alexandria leaving one Muslim Brotherhood protester dead, according to medical sources.
In defiance of a security crackdown, pro-Morsi demonstrators marched toward Rabaa al-Adawiya square, the site of a bloody clampdown in August.
Intense exchanges of live ammunition and gunfire have been reported by Reuters and the BBC in the centre of Cairo. Egyptian riot police have fired tear gas and locked down Tahrir Square and other main streets. Troops sealed off the square with tanks and barbed wire, diverting traffic from the central plaza
The protesters chanted slogans against the army and its chief Abdel Fattah al-Sisi, who removed Morsi on 3 July, sparking weeks of anger and bloody military crackdown.
State TV also reported violence in the northern Sharqiya district and to the east in Giza.
Egypt's Muslim Brotherhood group, led by Morsi, is intensifying protests to coincide with commemorations of the country's opening strike in the 1973 war with Israel on 6 October.
The clashes came as the military-appointed government is moving to seize the assets of the Islamist movement after their activities were banned by authorities. It said it will also ban the extensive social services the group provides such as hospitals, schools and charities.
"By the law, by the last sentence, they are now banned," an official said.