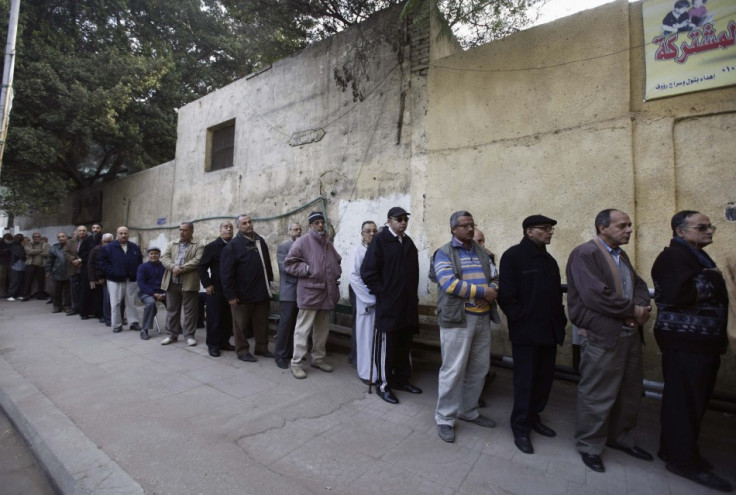 Egypt is holding a referendum in a bid to resolve sharp divisions between President Mohammed Mursi's Muslim Brotherhood and opposition parties.
The Islamist-backed draft constitution has triggered three weeks of widespread protest in Egypt.
Nearly 250,000 security personnel, including the powerful Egyptian army, have been deployed to bolster security during polling.
Half of Egypt's 51 million registered voters are expected to vote in Cairo, Alexandria and eight other key provinces. Mursi is likely to visit one of the provinces to view the polling.
"I am here to say no to the Muslim Brotherhood. I read the constitution and I am against child labour and the articles drafted about women's rights. However, I expect the referendum results to be in favour of the constitution even if the people vote no," Mohamed Marie told Egypt's Ahram Online.
The second round of the referendum is scheduled to take place on 22 December. Polling was spread over two days because only a limited number of judges were available to supervise the voting. Critics have expressed concern that the results of the first phase of polling may influence the second stage.
"I read parts of the constitution and saw no reason to vote against it. We need to move on and I just see no reason to vote against the constitution," voter Rania Wafik told the Associated Press.
The referendum will decide the fate of the constitution drafted by the Islamist-dominated assembly. The constitutional draft is largely based on Islamic Sharia law. The referendum will be vital in deciding Egypt's future as either a secular or an Islamic nation.
The opposition National Salvation Front has called on people to vote against the referendum. One of its leaders, Ahmed Said, said: "History will remember that this regime forced a referendum on the people of Egypt in these harsh circumstances. They can't find judges to monitor and [there is] blood on the streets."