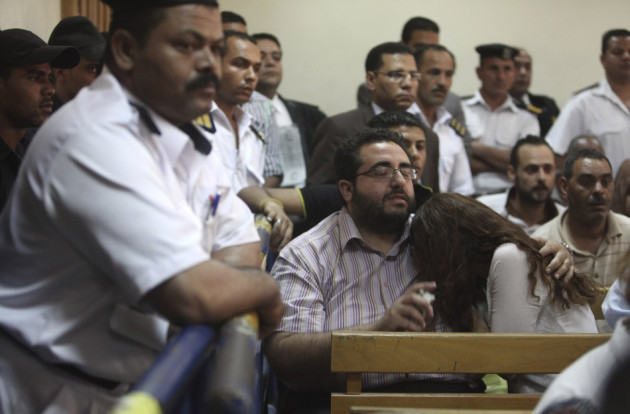 A Cairo court has convicted 43 NGO workers to between one and five years in prison for working without a licence and "using foreign funds to incite unrest".
Defendants included 16 Americans, most of them tried in absentia. Among those were Sam LaHood, son of US politician Ray LaHood, and six workers working with the Freedom House advocacy group.
American Robert Becker, who stayed in Egypt and was present at the hearing to show solidarity with his Egyptian colleagues, was sentenced to two years in jail
In a case that has caused an international outcry, Judge Makram Awad ruled that the NGOs that the defendants for should be closed down and their assets confiscated.
Freedom House, the International Republican Institute, the National Democratic Institute, the International Centre for Journalists and Germany's Konrad Adenauer Foundation were hit.
The case dates back to December 2011 when 17 offices were raided across Cairo and NGO workers were indicted on charges of operating without licence and receiving foreign funds.
During Hosni Mubarak's era, NGOs had to formally register with the government and were reviewed by the ministry of foreign affairs. Under Article 5 of the current law, organisations that do not receive a response to their registration within 60 days are considered illegal.
That has caused a diplomatic row between the Egyptian and American governments.
Freedom House condemned the ruling as "a disgrace from the very beginning".
"It is motivated purely by corrupt and anti-democratic behaviour and a determination to shut down civil society," said David Kramer, president of Freedom House.
"None of those indicted did anything wrong. They were simply working with Egyptians to help them realise their dream of a free Egypt, and instead have been made scapegoats for a government and judiciary who have betrayed the aspirations of the 2011 revolution.
"I am deeply disappointed by today's verdict but not surprised," said Nancy Okail, director of Egypt programmes at Freedom House, and one of the convicted defendants.
"President Mursi's government has continued Mubarak's tactics of using threats, intimidation, and the arbitrary exercise of government power to suppress free expression and association in Egypt."
According to the group, the Islamist-led government has proposed a new law to curb on NGO activity that would impose "even more restrictions and harm civil society than the previous law under Mubarak".