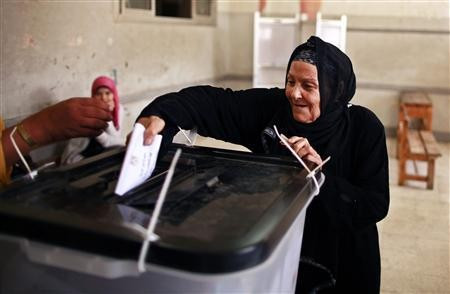 Egypt will announce its presidential election results on Monday against the earlier set date of Tuesday, said the country's electoral commission.
The commission is expected to hold a press conference at around 13:00 (GMT) to announce the results of the first round of elections held last week.
The result is likely to lead to a run-off between Muslim Brotherhood's candidate Mohamed Morsi and former military man Ahmed Shafiq.
"Today we announce the results of the first round of the presidential election," Reuters quoted the secretary-general of the electoral committee, Hatem Bagato as saying.
When asked whether there would be a run-off, Bagato said it will be clear only when the results are formally announced.
AFP reported that unofficial results from various media in the country indicate a comfortable lead for Morsi over Shafiq.
Reports suggest Morsi secured 25 percent of the votes, according to preliminary results.
The run-off is supposed to take place on 16 and 17 June whereas three of the candidates have alleged irregularities in the voting process which may delay the run-off although unlikely.
This is the first democratic election in Egypt after an uprising ousted the then dictator Hosni Mubarak. Shafiq was the prime minister during Mubarak's brutal reign.