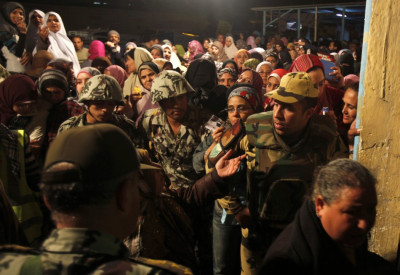 Polls have opened Tuesday for the second day of voting in Egypt's parliamentary elections, the first since President Hosni Mubarak was ousted in February.
Despite violent protests against the country's military rulers and calls for a boycott of the elections, the turnout for the first day was high, forcing the authorities to extend the voting by two hours.
Last week up to 40 protesters died during protests in Tahrir Square, but security fears did not prevent Egyptians from voting en masse, showing how determined they are to break away from years of dictatorship followed by months of frustration with the ruling Supreme Military Council, which took over from Mubarak.
Tuesday's vote is the second day of a series of votes expected to take place until January.
More than 50 parties are competing in the elections. The parliament is set to have a strong Islamist bloc with parties like the Justice and Freedom Party, a group set up in April with strong links to the Muslim Brotherhood set to do well. Liberal factions also expected to score well are the oldest Egyptian party, al-Wafd and Al-Masryeen al-Ahar (Free Egyptians Party.)