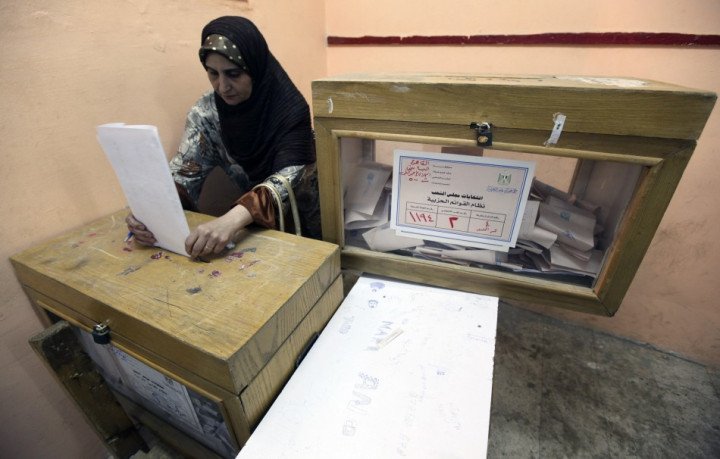 Egyptians have turned out in force in defiance of calls to boycott parliamentary elections.
On the opening day of the elections Monday, people queued for hours to cast their ballots and polls were kept open two hours past the scheduled closing time to accommodate the millions of voters. For many, this is the first time in living memory that they have a chance to choose how their country will be run.
"We must take part, we must vote, even if we stand here for five hours, so that Egypt can go forward," voter Hoda Abdel Hamid, 43, told Reuters news agency.
"I am voting for the future of my children," she said as she stood in a queue in Cairo's Shubra district.
Egypt Goes to the Polls in Landmark Post-Mubarak Elections
Despite the scenes of peaceful and democratic voting, however, the elections have been plagued by the shadow of the last 10 days of violence and unrest in Tahrir Square.
Protesters in central Cairo battled with security forces and the police in a conflict that left at least 41 dead and more than 2,000 injured. Demonstrators were calling for the immediate resignation of Field Marshal Hussein Tantawi, leader of the ruling Supreme Council of the Armed Forces, followed by a transition to a civilian government.
Calls by protesters for Egyptians to boycott the elections have borne little fruit so far, with reports saying Tahrir Square was fairly empty and quiet during voting on Monday.
The Muslim Brotherhood, Egypt's largest and best organised opposition, has pushed for the elections to go ahead despite the recent unrest and internal fissures within the movement, which surfaced during the protests. The Brotherhood expects its Freedom and Justice Party to do well in the first round of voting.
Will the Muslim Brotherhood Win Egypt's Elections?
Reports of electoral malpractice at certain polling stations around the country have largely been traced to members and supporters of the Islamist group.
"[They] have been violating the rules and regulations of the high elections commission," said Amr Hamzawy, a candidate for the liberal Freedom Egypt Party and one of its founding members. "But we are reporting all these irregularities to authorities. Today I feel confident that this was the right thing to do and I feel very hopeful."
Egyptians have been using social networks and live blogs, such as Facebook and Twitter, to report irregularities at the polls. Nearly all parties have been accused of violating the ban on distributing campaign literature and there have been reports of voting cards being changed, as well as party members being present at polling booths to "help" voters understand their ballot papers.
Despite these hiccups, the overall mood in Egypt remains positive and expectant, according to the BBC. People across Egypt are being given a political voice for the first time in more than 30 years in the beginnings of a process due to continue until March 2013. That in itself is a cause for celebration.