Egypt Elections: Voters Take to Twitter and Facebook to Report Fraud and Violations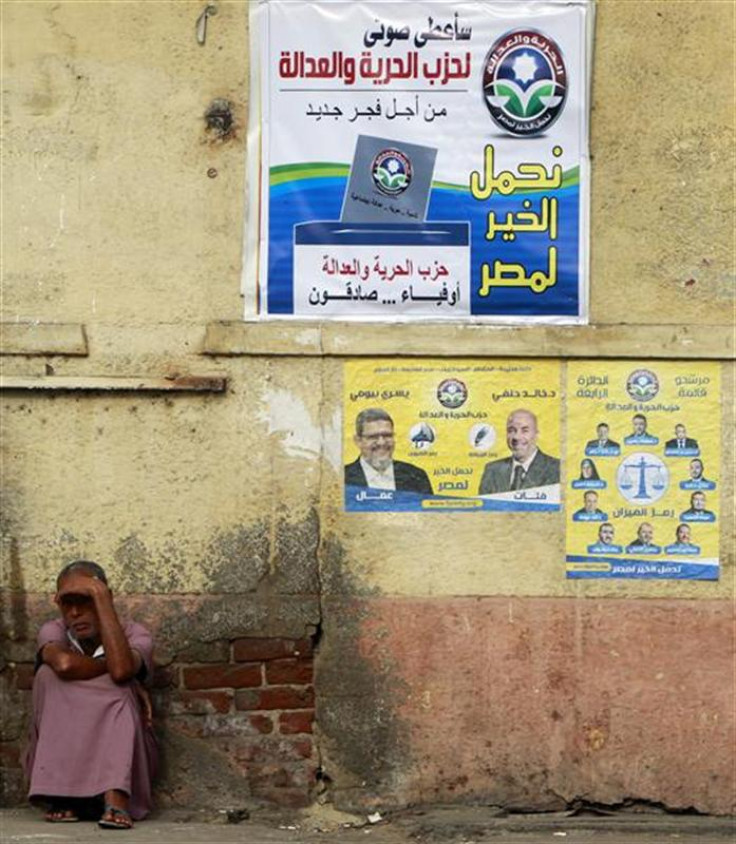 As Egyptians vote in parliamentary elections Monday, they also are taking to the Web to report violations and attempted fraud at the polls.
Using live blogs or social networks such as Facebook and Twitter, Egyptian voters are voicing both their concern and their joy.
Reports include Muslim Brotherhood members campaigning in front of polling stations in violation of a ban for the 48 hours before the start of the vote.
The Brotherhood-backed Freedom and Justice Party urged people from all factions and ideologies to participate in the elections and called on them to help the armed forces in protecting the polling stations.
Egypt Goes to the Polls in Landmark Post-Mubarak Elections
Calls for a boycott by opponents of the military regime fizzled out as turnout was reportedly high.
In Assiut and Fayoum, activists said that by 11 a.m. local time ballots had not yet been delivered to some polling stations. Others reported that some of the ballot papers for single-winner seats do not have the proper stamps, which would facilitate rigging the vote.
Ahmed Fawzy, the head of the Egyptian Association For Community Participation Enhancement, said: "Voters at one of the polling stations in Ramsis staged a protest chanting, 'Invalid, invalid' after they found that the ballot papers were not stamped."
Similar reports emerged throughout the morning with polling stations reportedly still being closed and candidates attempting some last-minute campaigning despite the ban.
Voters also complained that the voting process was too slow and feared not all the people present would be given the opportunity to vote.
In some areas, observers complained of a lack of security forces, even though the leader of the ruling Supreme Council of the Armed Forces, Field Marshal Hussein Tantawi had promised that securing the elections was his "personal responsibility".
In the city of Dar al-Salam, a group of angry voters reportedly started pushing against the soldiers posted at the polling stations, proving tensions between civilians and the security forces are still high.
Meanwhile at Cairo's Architectural School, people also complained that signs covered the name of the school, confusing voters as to whether they were in the right place.
They also claimed that some microbuses in the area are picking up people on the way to the school compound, only allowing people in if they promise to vote for a certain candidate.
Twitter users also reported the killing of an independent candidate in Heliopolis. According to the reports a man called Ahmed Farag was stabbed with a knife, dying from his wounds.
Despite the confusion and reports of rules violations, many also expressed their joy, praising the high turnout but warning that if many frauds are reported, people could as a consequence take to the streets after the polls.
Egypt: Parliamentary Elections Factfile
© Copyright IBTimes 2023. All rights reserved.