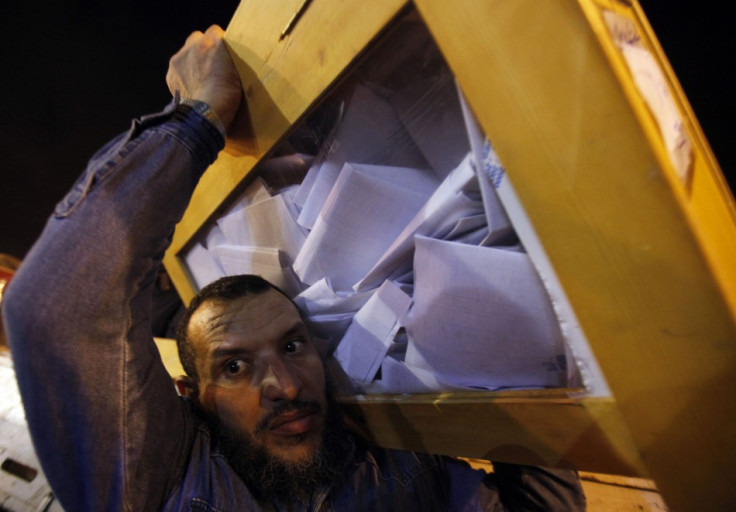 Egyptians headed back to the polls Monday for the runoff of the first round of parliamentary elections since Hosni Mubarak's downfall.
Last week's ballots saw Islamist parties take a majority of the votes and the runoffs are likely to ratify their gains.
Both Islamist and liberal candidates are contending for the remainder of the 52 seats that were up for grabs.
Results published at the weekend showed the Muslim Brotherhood's Freedom and Justice Party ahead with 36.6 percent of the 9.7 million validballots that were cast.
The ultra-conservative Salafists' Al Nour Party also scored well with 24.4 percent of the vote, while the secular Egyptian Bloc won 13.4 percent.
With a further two rounds of staggered elections due over the next month, the weekend's results represent the performance of fewer than a third of the votes for the 498-seat parliament.
When the polls opened on Monday, turnout was much lower than last week, but observers said many people were waiting to vote on Tuesday to avoid lengthy queues.
Liberal parties have warned that an alliance between the FJP and Al Nour would give the coalition a strong majority in parliament.
But the FJP, which insists that it remains a moderate Islamist party, appears unlikely to form an alliance with the ultra-conservative Al Nour, which would like Sharia law to govern all aspects of society.
The FJP announced last week that it wants the new Parliament to form a new Cabinet, a move the Supreme Council of the Armed Forces is set to reject, with a possible struggle between the two sides.
With Islamist parties likely to take power, Israel has reiterated the importance of the 1979 peace treaty signed between the two countries.
"We hope any future government in Egypt will recognise the importance of keeping the peace treaty with Israel in its own right and as a basis for regional security and economic stability," Israel Prime Minister Benyamin Netanyahu said.