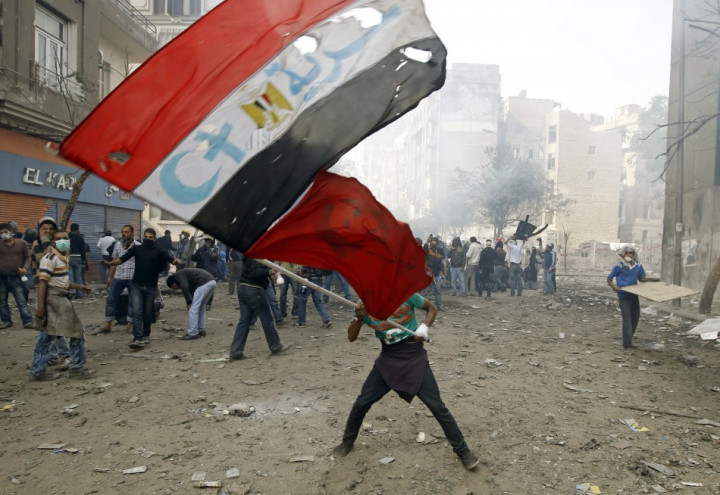 The ruling Supreme Council of the Armed Forces (SCAF) has apologised for the deaths of pro-democracy activists, while questions have been raised about the likelihood of next week's elections going ahead.
Egypt's military rulers have said they regret "the deaths of martyrs from among Egypt's loyal sons".
Around 40 people are estimated to have been killed in the latest uprising, which began on Saturday.
Speaking on state television, Field Marshall Mohamed Hussein Tantawi, the head of SCAF, promised to oversee a transition to a civilian government by June 2012 - a six-month improvement on dates floated previously.
But demonstrators in Cairo's Tahrir Square, as well as smaller protests in Alexandria, rejected Tantawi's concessions, calling for his immediate resignation.
Arab Autumn: Egyptian Protests in Pictures
The ongoing violence between protesters and security forces threatens to overshadow parliamentary elections due to take place next Monday. Those in Tahrir Square say they do not want the elections to go ahead until the ruling military agrees to step down.
"It is unsuitable now to hold elections," said protester Nashan Bishara. "For those who love Egypt, stability must be established first. The truth is the army doesn't want elections."
Egyptian expatriates have also held demonstrations in New York and Washington to show solidarity with the pro-democracy movement in Egypt.
Despite the protesters' calls for the elections not to proceed as planned, there are signs that, perhaps, the hundreds gathered in Cairo and Alexandria do not represent the majority of Egyptians.
The Muslim Brotherhood, Egypt's strongest opposition party and one that is likely to benefit most from Monday's elections, has not endorsed the current protests.
The BBC also reported that an Egyptian woman told a Cairo radio station that the protesters "are the dictators now".