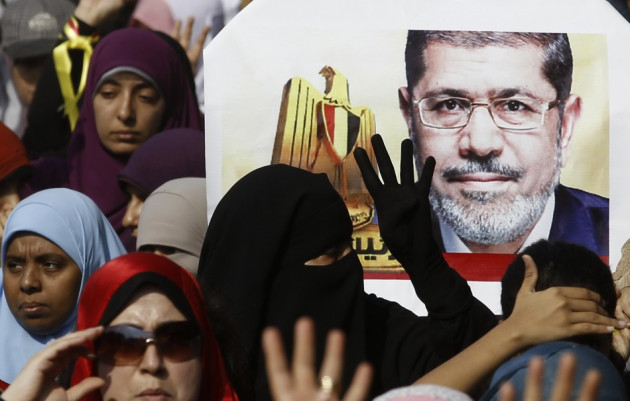 Tensions are rising again in Egypt following a call by Muslim Brotherhood supporters for protests over deposed president Mohamed Morsi's trial forcing the authorities to beef up security measures.
Morsi, along with 14 other Brotherhood senior figures, face charges of inciting violence and murder during the clashes in December 2012 outside the presidential palace in Cairo. If convicted, the accused could face up to life imprisonment or the death penalty.
It is feared that the trial could unleash a new wave of violence across Egypt threatening to plunge the Arab world's most populous nation into a fresh crisis.
"They sent me a text message telling me not to send the children to school tomorrow [4 November]. I wasn't going to anyway. I wasn't waiting for instruction from the school's administration. I'm taking the day off tomorrow myself and nobody is going out. God knows how the day will go," local official Sayed Hussein told Egypt's Al Ahram news outlet.
Pro-Morsi campaigners have been calling for widespread demonstrations in the week running up to the trial. Egyptian authorities said they have taken a number of steps to prevent any untoward incident. Security forces have been deployed at key venues and government buildings.
Police have been given orders to use live ammunition against "non-peaceful" protesters.
"We are well aware of plans for demonstrations and are taking all necessary measures. I am not undermining the challenge, but I feel that with the support of the public - which has been remarkable, and that of the media - which is appreciated, we will be able to deter any attempts by the Muslim Brotherhood to 'hijack' the day," said a security source.
Since his overthrow on 3 July, the detained Morsi has been kept at an undisclosed location and the trial will be his first public appearance.
The trial will not be televised and local reports suggest some journalists are not allowed inside the courtroom. Morsi's trial will be held at the Police Academy on the outskirts of Cairo where former dictator Hosni Mubarak was also tried.
Morsi is likely to forgo a lawyer and will represent himself during the trial.
"No lawyers will be defending president Mohamed Morsi, neither Egyptians nor foreigners, because the president does not recognize the trial or any action and processes that result from the coup," the pro-Morsi Anti-Coup Alliance said in a statement.