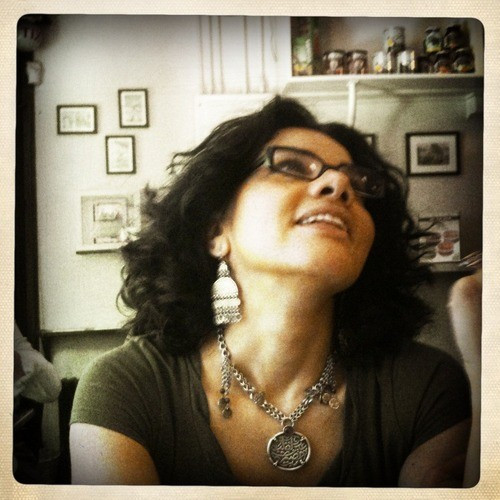 Mona Eltahawy, the award winning Egyptian-American journalist arrested on Wednesday near Tahrir Square, has revealed she suffered a brutal sexual and physical assault at the hand of the state's riot-police.
The internationally-renown journalist first revealed she had been arrested and then released on Twitter.
She remained inside Cairo's Interior Ministry for 12 hours and said her time in detention left her with two broken wrists.
She also said that security officials repeatedly insulted her and grabbed her breast and genitals.
Before being arrested Eltahawy used the social network Twitter to describe the protests and the security forces' behaviour.
On Wednesday, at around 11 pm GMT, she wrote "Pitch black, only flashing ambulance lights and air thick with gas Mohamed Mahmoud #Tahrir"
However just a few hours later she tweeted: "Beaten arrested in interior ministry," prompting her followers and supporters to set up a campaign, #Freemona, calling for her release.
On Thursday, the journalist finally said she had been freed writing "I AM FREE", before adding "12 hours with Interior Ministry bastards and military intelligence combined. Can barely type - must go x-ray arms after CSF pigs beat me."
She also thanked her supporters and noted: "I can barely imagine what my family and loved ones were going through those 12 hours-I know they were worried about me to begin with. Sorry"
Describing her ordeal, Eltahawy explained: "Five or six surrounded me, groped and prodded my breasts, grabbed my genital area and I lost count of how many hands tried to get into my trousers. Yes, sexual assault. I'm so used to saying harassment but [they] assaulted me."
"My left hand and my right arm are broken. This is as a result of a brutal beating by the Egyptian riot police who surrounded me", she added when speaking to CNN after the incident.
"I was taking pictures and covering events on the frontline of confrontations between protesters and the police and the military and a group of five or six riot police beat me, and surrounded me and rained their big sticks down on my arms. I was trying to protect myself.
"They also sexually assaulted me. They dragged me to the ministry of the interior. They dragged me by the hair and called me all sorts of insults. And this all happened in about seven to eight minutes."
She mainly blamed the riot police for her maltreatment, saying the army had treated her more appropriately and took pictures of her bruises.
"The past 12 hours were painful and surreal but I know I got off much easier than so many other Egyptians. God knows what would've happened if I wasn't dual citizen," Eltahawy later wrote on Twitter.