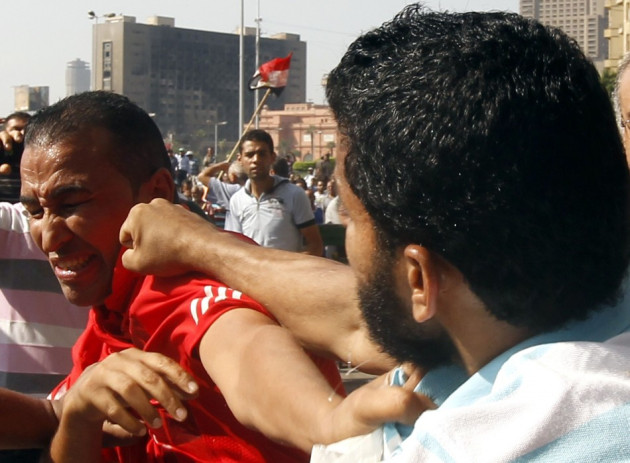 Protests against the Muslim Brotherhood's President Mohammed Mursi have turned violent in Egypt.
Anti-Mursi protesters, who marched against the Brotherhood's government under the banner "Accountability Friday", clashed with the regime's supporters in Cairo's historic Tahrir Square. State media reports that more than 110 people have been injured.
Both sides were involved in a mild confrontation hurling stones, petrol bombs, and bottles at each other. Brotherhood supporters clearly outnumbered the protesters.
Soon after the clashes broke out, government-backed television ran a scroll saying: "Muslim Brotherhood group denounces regrettable incidents in Tahrir Square, calls on its members to withdraw from the square."
This is thought to be the worst incident of violence in the Egyptian capital's famous square since Mursi took over as president in June 2012. The protests were staged to mark Mursi's 100 days in office, regarded as a failure by opponents.
"We are here against turning the state into a Brotherhood state. We do not want to replace the old regime with one like the old one," said an angry protester Rania Mohsen, according to the BBC.
Mursi's attempts to force Egypt's top prosecutor to go into early retirement have angered critics.
"There should be a cleansing of the judiciary right away after the prosecutor-general's dismissal, in revenge for the blood of the martyrs who died for the revolution," a protester told Euronews.
Mursi's decision followed the prosecutor's acquittal of 24 people charged with attacking peaceful protesters during the Arab Spring uprising against then dictator Hosni Mubarak.