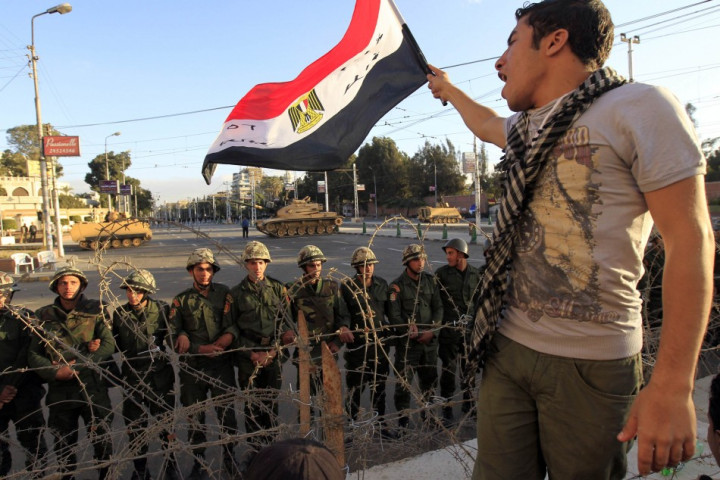 Egyptian President Mohammed Mursi has brought in the country's military to secure the referendum for a new draft constitution.
In a move which has surprised local experts, Mursi has granted the army most of the powers of the police forces. According to an official gazette notification, the army has the power to make arrests and can maintain the security of the state until 15 December.
In "maintaining public order" the military forces will be able to arrest civilians in case of any escalating situation, in coordination with the police forces.
The law was approved by Mursi after it was passed by the Islamist-dominated cabinet. Earlier reports suggested that the army would be given powers until the next parliamentary elections, which will take place within two months of the approval of the constitution.
As part of the declaration, the military will also safeguard government institutions including the presidential palace which has been a target of anti-Mursi protesters in recent days.
The military took control of the country during the difficult transition period between Mubarak's and Mursi's presidency. When the Supreme Council of Armed Forces (SCAF) suggested a similar move in 2011 to grant arresting powers to the army, it was staunchly opposed by political groups including the Muslim Brotherhood, the party to which Mursi belongs.
The latest approval by Mursi has raised concern among Egyptian activists who say the move is problematic and may indicate the country is yet again moving towards military rule.
"There are two reasons why this is so problematic. Firstly, civilians arrested by military officers could be subject to military trial, and secondly there is no civilian oversight on the military. It is much more dangerous, it is an invitation for abuse," Egypt director for Human Rights Watch, Heba Morayef, told Daily News Egypt.
When a similar decree was previously issued by the SCAF, it was blocked by the country's judiciary.
Meanwhile, opposition groups remain firm over boycotting the referendum. Mursi's latest annulment of the decree has had little effect on the opposition as mainline groups including the main National Salvation Front gear up for more protests.
"Holding a referendum now in the absence of security reflects haste and an absence of a sense of responsibility on the part of the regime, which risks pushing the country towards violent confrontation," said the opposition in a statement.
While the Brotherhood party is urging the opposition groups to accept the referendum and its verdict, anti-Mursi forces are determined to bring down the hastily drafted constitution.