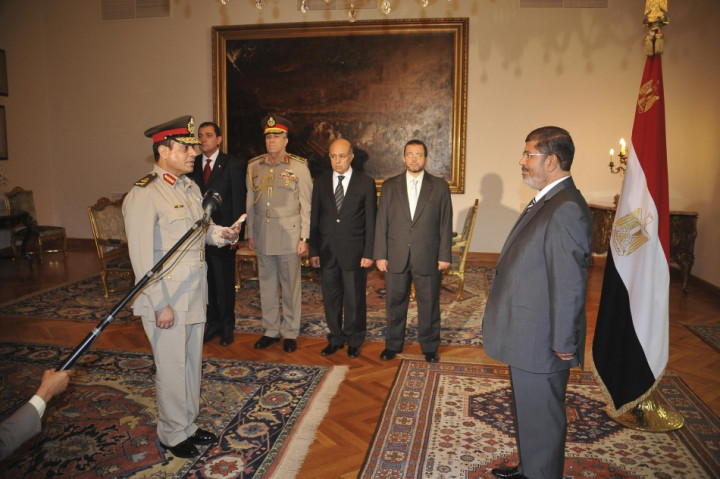 In what is being described as an "incredible move", Egyptian president Mohammed Mursi has forced his country's most powerful military figures into retirement, and cancelled constitutional changes which gave the armed forces legislative control over the government.
A spokesman for Mursi, speaking live on state television, announced the 'retirement' of seven members of Egypt's military elite, notably Field Marshal Mohammed Hussein Tantawi, the government's defence minister, and General Sami Anan, the army's chief of staff.
Tantawi has been described as "Mubarak's poodle" because of his devotion to former president Hosni Mubarak. As leader of the Supreme Court of the Armed Forces (SCAF), he held executive power over Egypt between the ousting of Mubarak and the accession of Mursi in June 2011.
Tantawi has been replaced by General Abdul-Fatah al-Sessi, Egypt's head of military intelligence. Meanwhile Anan, another long-standing Mubarak appointee and supporter, has been replaced by Lieutenant-General Sidki Sayed Ahmed.
The forced retirements come just days after Egypt's security forces were breached by Islamic militants, who killed 16 soldiers at the Rafah border crossing and broke into Gaza.
Alongside the military reshuffle, Mursi has appointed Mahmoud Meki, a respected judge who denounced electoral corruption during Mubarak's regime, as vice-president.
New powers
The president has also annulled a series of military-issued constitutional amendments, enacted shortly before his election victory in June, which gave vast powers to the SCAF.
The amendments, which some analysts have described as tantamount to a coup, stipulated that the president had no authority on any issue relating to the military, and could not appoint its leaders.
Despite widespread belief that Mursi has struck a major blow in his ongoing battle with the military, the president insisted:
"The decisions I took today were not meant ever to target certain persons, nor did I intend to embarrass institutions, nor was my aim to narrow freedoms.
"I did not mean to send a negative message about anyone, but my aim was the benefit of this nation and its people."
Shadi Hamid, director of research at the Brookings Doha Center, described Mursi's decision to confront the military as "powerful" and "very gutsy". However, he added that the battle for power goes on, saying:
"The best way to understand this [decision] is as another chapter in the long struggle between Mursi and the Brotherhood and the deep state."
Many fear that Mursi's decision will strain the military-political relationship in Egypt still further, and could trigger a strong response from Tantawi's side.