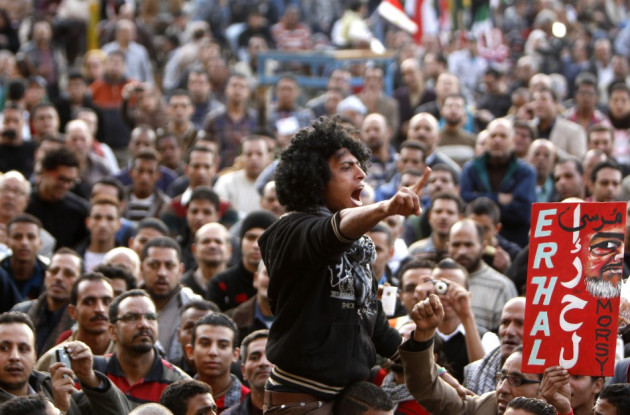 Egyptian president Mohammed Mursi has been dealt a fresh blow in his fight to change the constitution after top members of the judiciary warned that it would not back his referendum.
The Judges' Club, Egypt's largest judicial association, said that 90 percent of its members had refused to oversee the referendum on a controversial constitution draft.
Their move followed an announcement by rival body the Egyptian Administrative State Council's Judges Club that its members would perform their customary roles as election supervisors during the vote scheduled for 15 December.
Despite the boycott the government said the referendum would go ahead. Mursi's deputy said voting could be staggered over several days to make up for the lack of an adequate number of judges.
The boycott is likely to further undermine the vote's validity and the charter's legitimacy in the eyes of a large part of the population. a growing number of Egyptians have been protesting against the new constitution since the end of November.
Four separate rallies in Cairo have been converging on the presidential palace again, closely watched by the army.
Nine people were injured as a gunman opened fire on opposition protesters.
Mursi tried to calm tensions at the weekend by revoking some of the widespread "pharaoh" powers he gave himself by decree but protests have gone on.
Despite his attempt at reconciliation, his move has failed to address concerns on the constitutional changes he has proposed. Opponents claim they have been drafted by an Islamist-dominated constituent assembly and that the measures curb would basic human rights.
Mursi's supporters maintain that the new charter is fundamental to preserve the revolution's spirit against reactionary forces.
The constitution would also reduce the powers of the supreme court. The judges in the supreme court were all appointed by toppled dictator Hosni Mubarak.
With the country still in turmoil, Mursi's government has asked the International Monetary Fund (IMF) for a one-month delay for a $4.8bn loan.
The request came after Mursi backtracked on the adoption of a package of tax hikes and austerity measures that was key to the loan agreement with the IMF.
The package contained measures severely criticised by Mursi's opponents such as the introduction of duties on alcohol, cigarettes and cooking oil.
"In a period characterised by political tension and arguments, the president was forced to suspend these [decisions] until there is a societal dialogue around them," Prime Minister Hesham Kandil said.