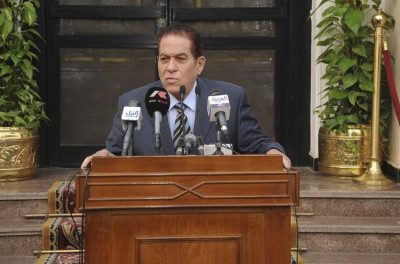 Demonstrations calling for the Supreme Council of the Armed Forces to step down are still taking place in Tahrir Square, despite the announcement of the formation of a new salvation government to be led by former Prime Minister Kamal al-Ganzouri.
Following the continuing unrest al-Ganzouri held a press conference in which he explained that security and the declining economic situation were his main priorities.
While he refused to confirm the names of the people who will be appointed in the new cabinet, he hinted that ministers who had served under the Mubarak regime were likely to be included.
He also revealed that the military has given him far greater powers than his predecessor Essam Sharaf.
The former cabinet led by Sharaf resigned this week following increased tensions between protesters and the SCAF and al-Ganzouri was subsequently appointed to the PM position Friday.
However, following the announcement of the cabinet's resignation protesters had advanced a list of people which they said should head the new transitional government and have since criticised al-Ganzouri's appointment.
The list included Nobel peace prize Mohamed ElBaradei and ex-Muslim Brotherhood member and Abd El-Moneim Abu El-Fotouh, both presidential hopefuls.
Following is a profile of the three politicians