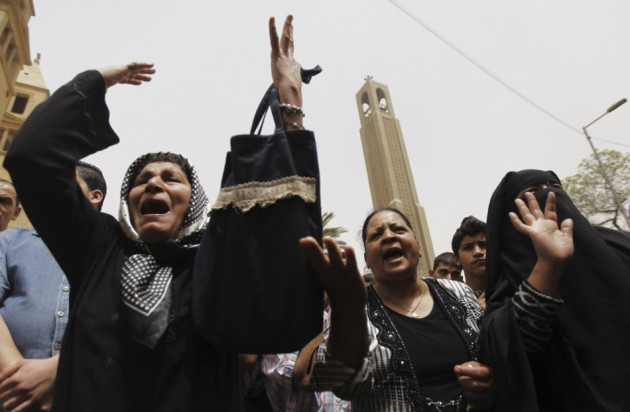 Egypt's president, Mohammed Mursi, is facing widespread criticism over his handling of the worst sectarian violence against Coptic Christians in months after seven people died in two days of clashes at the Coptic cathedral in Cairo.
An unprecedented attack on the main place of worship of Egypt's Coptic Church by an angry mob of Muslims hurling firebombs and rocks led Pope Tawadros II to speak out against the failings of Mursi's administration in protecting Copts.
Although Mursi promised Tawadros that everything would be done to defend St Mark's Cathedral, he let down Coptic believers in the end, said the pope. Mursi's attitude came "under the category of negligence and poor assessments of events", said Tawadros.
Egypt's leading opposition figure, Mohamed ElBaradei, also called on the Islamist president to make concessions to bring the opposition into policymaking. He blamed months of violence on attempts by the ruling Freedom and Justice party, the Muslim Brotherhood's political arm, to dominate the power structure.
Mursi ordered an investigation into the violence at the cathedral and said that he considered any attack on the building as "an attack on me". He urged Egyptians to refrain from violence "that might threaten the nation's security or cohesion".
Clashes outside the cathedral erupted when a mob attacked Christian mourners during the funerals of four Copts killed in religious violence. More than 80 people were injured as Muslim fought Christian while police used teargas to break up the violence.
The Freedom and Justice Party posted a statement on its Facebook page stressing its "utter rejection and condemnation of violence".
It appealed to both sides "not to respond to systematic provocations" or "ploys that target the homeland" but did not apportion blame for the violence.
Egypt's Coptic Christians make up about 10 percent of the population. They have often accused the Islamist-dominated government of failing to protect them following the ousting of Hosni Mubarak in 2011.