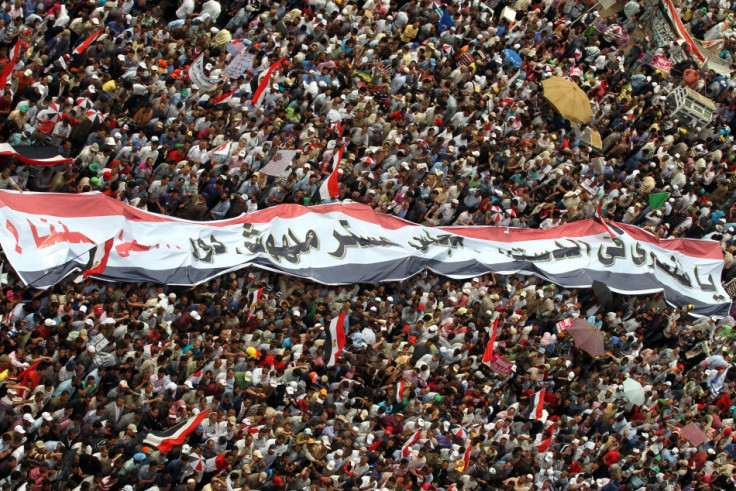 Egyptian revolutionaries have backed Muslim Brotherhood candidate Mohamed Mursi in the presidential election run-off.
The April 6 youth movement has declared its support for Mohamed Mursi, the Muslim Brotherhood candidate, who faces controversial independent candidate Ahmed Shafiq on 16 and 17 June 16, the Aswat Masriya news website reported.
The surprise move only came after the Muslim Brotherhood agreed to adopt a national initiative that would compel Mursi to appoint Hamdeen Sabahi and Abdel Moneim Aboul Fotouh as vice-presidents, the group said.
Sabahi, a politician pledging a return to Gamal Abdel Nasser's Pan-Arabism ideology, and Fotouh, who is backed by the Salafi party Al-Nour, were eliminated in the first round of the election.
Battle of the Camel
The movement, which played a crucial role in mobilising revolutionaries and protesters during the uprising that toppled Hosni Mubarak, said: "Our political differences with some of the stances of the Muslim Brotherhood or its political arm, the Freedom and Justice Party, shall not prevent us from uniting against furious attempts to bring the former regime back to life." It was referring to Shafiq, who served as Mubarak's last priome minister.
Many revolutionaries hold him partly responsible for the "Battle of the Camel" in which 11 people were killed and hundreds injured after men riding horses and camels attacked protesters.
Shafiq was due to attend court in the trial of 25 people suspected of involvement in the attack but did not show up.
According to a statement on April 6's official Facebook page, Mursi has agreed to adopt a national initiative of five points:
Balanced constituent assembly that represents all different factions of society to draft Egypt's new constitution.
Presidency as an institution that includes Sabahi and Fotouh (or someone they nominate) as vice-presidents.
Mursi's resignation from the Muslim Brotherhood's Freedom and Justice Party.
Coalition government of experts that is not headed by the brotherhood or its political arm.
Pushing for the retrial of those responsible for the lives lost during the uprising. Issuing legislation on minimum and maximum wages, an end to military trials and lifting emergency law.