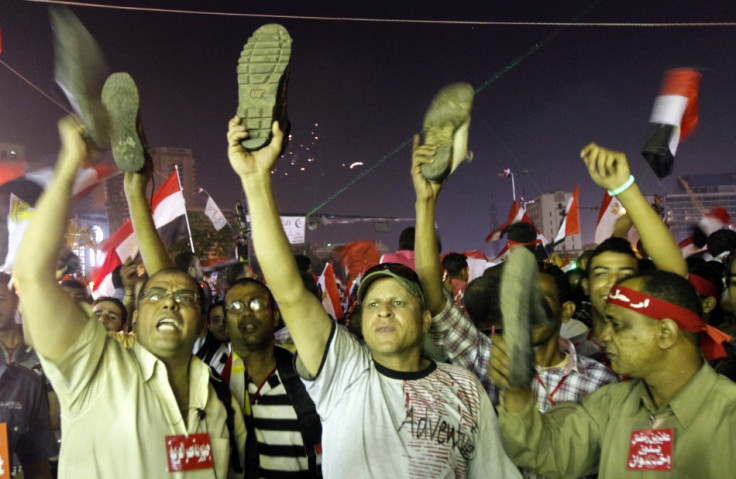 Egyptian president Mohamed Morsi said he was prepared to take on the army as the military looks to sideline him if he does not reach a compromise over opposition demands.
In a strongly-worded statement entitled "The Final Hours," the Supreme Council of the Armed Forces said it was willing to defend the country from "terrorists and fools" by "sacrificing lives". It denied it was planning a coup or would be involved in policymaking.
"The General Commander of the armed forces has said that it is more honourable for us [the army] to die than for the Egyptian people to feel threatened or terrorised," said the statement in response to Morsi's 45-minute televised midnight address.
Morsi appeared on national television to defend his "legitimacy" as more clashes in Cairo between demonstrators and police brought the death toll in the current unrest to 16.
The military had given a 48-hour ultimatum to Morsi to resolve the crisis but he rejected the demands immediately.
"We swear to God, we will sacrifice even our blood for Egypt and its people to defend them against any terrorist, radical or fool," said the statement on the official Facebook page of the army.
Sources told Reuters that military leaders were considering suspending the constitution and sidelining Morsi if he does not step down by the deadline of 15:00 GMT today (Wednesday).
"I will protect [democratic] legitimacy with my life," he said. "We have to prove to the world that we are capable of democracy, peacefully, we protect legitimacy.
"Legitimacy is our only safeguard from future faults. I do not accept anyone saying anything or taking any steps against legitimacy; this is completely out of the question," he said.
He accused forces loyal to the former regime of toppled president Hosni Mubarak for stirring up the unrest.
Liberal opposition leaders dubbed Morsi's latest refusal to resign as tantamount to declaration of "civil war" in the country.