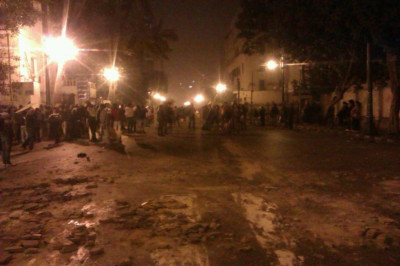 Violent clashes erupted early Friday between the Egyptian military and protesters staging a sit-in outside the Parliament in Cairo, adding to the already tense situation in the city.
There are currently 200 protesters sleeping outside the Parliament building and the standoff with the army began after 50 of them were struck down with food poisoning Wednesday and had to be hospitalized.
A mystery woman reportedly visited the camp earlier that day and offered its occupants homemade sandwiches.
Protesters participating in the sit-in told the Al-Masry Al-Youm newspaper that the confrontations began after a protester, Aboudi Ibrahim, was arrested by the police on Thursday night.
Ibrahim was taken away, beaten up and suffered electric shock and is now receiving treatment at Qast al-Aini Hospital in the city.
Following his arrest, demonstrators started to throw firebombs at the military police, causing the situation to escalate.
Witnesses said the state's forces retaliated by throwing stones at protesters from the top of the Parliament building and using water cannons.
Protesters said they heard gunshots and several cars were also set on fire.
As tensions mounted, the clashes spread to the streets surrounding the building and tens of protesters were injured.
The sit-in, called OccupyCabinet, was first organised on 24 November to protest Kamal al-Ganzouri's appointment by the ruling military council as prime minister.