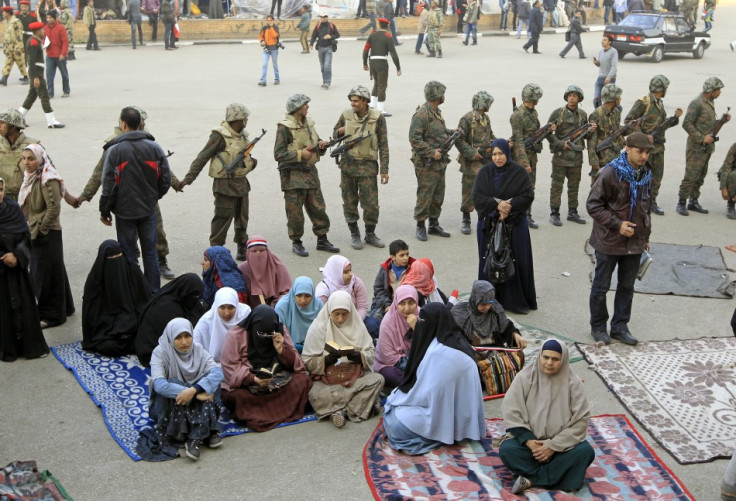 Seven women were assaulted in a military prison under the pretext of "virginity tests", but eight months after the incident the military has failed to investigate or prosecute the men accused of the sexual assault, according to Human Rights Watch (HRW).
HRW has reported that Samira Ibrahim, the only victim who filed a formal sexual assault complaint with the military prosecutor said she has received a series of threatening anonymous phone call since she pressed charges.
Giving her account of what took place Ibrahim explained
"Two men in military uniform came into the cell. They asked us which of us was unmarried and then told the seven of us that they were going to examine us to see if we were really virgins. They took us out one by one. When it was my turn they took me to a bed in a passageway in front of the cell. There were lots of soldiers around and they could see me. I asked if the soldiers could move away and the officer escorting me tasered me. The woman prison guard in plain clothes stood at my head and then a man in military uniform examined me with his hand for several minutes. It was painful. He took his time. It was clear he was doing it on purpose to humiliate me."
Under Mubarak the police and security forces have been known to threaten and even target victims of abuse by the state's forces, but the renewed inaction and bullying behaviour show that despite weeks of uprisings to overthrow their repressive regime, Egyptians are still believe that the Military Council is continuing the authoritarian style promoted by Mubarak.
"Egypt's military rulers are trying to cover up one of the most terrible abuses their forces committed this year," said Joe Stork, deputy Middle East director at Human Rights Watch. "After the trauma of sexual assault, these women have been denied the protection of the law."
Human rights groups have now called for civilians tried in military courts to be moved to the civilian justice authorities.
During an interview with CNN, in May, a SCAF general, talking on condition of anonymity acknowledged the army had conducted "virginity tests".
"We didn't want them to say we had sexually assaulted or raped them, so we wanted to prove that they weren't virgins in the first place," he said. "The girls who were detained were not like your daughter or mine. These were girls who had camped out in tents with male protesters in Tahrir Square, and we found in the tents Molotov cocktails and [drugs]," he then said.
However the organisation said that on June 6, another member of the SCAF, speaking of the virginity tests told Human Rights Watch, "We cannot confirm or deny that this happened because it is currently under investigation," before adding that the SCAF had "issued instructions that this should not take place again."