Egypt's army chief has said he will run for president if he receives a strong enough mandate in this week's constitutional vote.
Abdel Fattah al-Sisi told military colleagues of his plans on Saturday, according to the country's state-run media.
"If I run for the presidency, it must be by the request of the people and with a mandate from my army," he said.
"When Egyptians say something, we obey and I will never turn my back on Egypt."
His latest comments come just days before a referendum on a new constitution is due to take place, which the military-backed government say will restore elected rule to the country following the ousting of Mohamed Morsi.
Morsi - Egypt's fifth president - was removed by the military after mass protests last July. He is facing a raft of criminal charges, including incitement to murder and violence, along with many others from the leadership of the Muslim Brotherhood movement, with which he is affiliated.
For months, Sisi has refused to comment on rumours that he intended to run for president, making it difficult for others to declare their own presidential ambitions. Few are willing openly to declare their opposition to a man many praise for overthrowing Morsi following the mass protests, and who is expected to win any contest he enters.
Sameh Seif Elyazal, a retired army general, and director of the al-Gomhoria centre for political and security studies, told the Guardian: "I think if Sisi runs, and I think that's most likely now, he will win in the first round."
Sisi has many supporters across Egypt, who claim to have gathered millions of signatures calling for him to run. Posters and banners of the general adorn many Egyptian streets.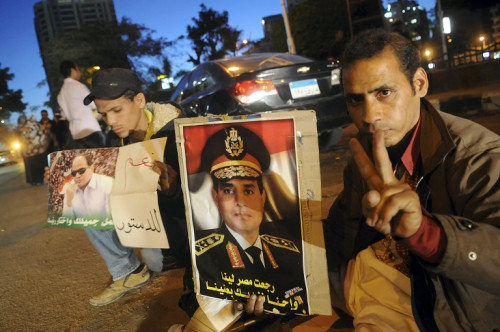 But reliable polling is scarce in Egypt, and it is unclear exactly how large a faction his supporters form. A Zogby poll from September suggested that although backing for the army stands at 71%, Sisi and Morsi have roughly even support.
Only 10% of expatriate Egyptians, who began voting early, have taken part in the referendum, according to figures released by Egyptian officials – with just one day of overseas voting left.
Though it is far harder for Egyptians living abroad to access polling stations, the turnout so far is well below the 70% participation rate the constitution's backers have said they want.
Sisi is also reviled by supporters of Morsi's Muslim Brotherhood, who have faced a harsh crackdown since July. More than 1,000 have been killed and thousands more arrested, and the group was recently declared a terrorist organisation.
Secular activists however, who joined calls for Morsi's deposition, have begun to criticise Sisi and the government he installed, after the suppression of the Brotherhood spread to non-Islamists.
Morsi's trial had been due to open this week but was adjourned until 1 February due to bad weather, which prevented him being flown from his prison in Alexandria to the court in Cairo.