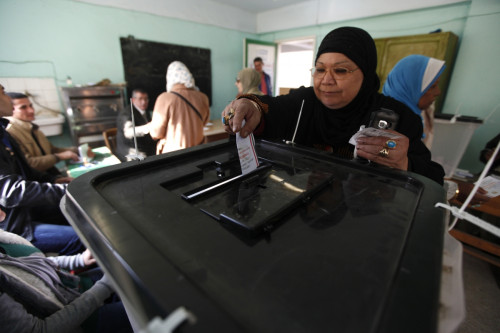 Egyptians are heading to polling stations to vote for the new military-backed constitution, the first since Islamist president Mohammed Morsi was ousted.
If the majority of its 52 million voters say "yes" in the two-day referendum, it would likely boost a presidential bid by army chief General Abdel Fattah al-Sisi.
Egyptians are voting under an amended version of the 2012 constitution, enacted by the toppled Muslim Brotherhood's government.
The amended draft limits Islamic law and introduces new articles seen as a victory for rights advocates.
It states that the charter "continues to build a democratic, modern country with a civilian government". Islamists have lashed out at the word "civilian", which in Arabic indicates the non-religious and non-military, because they consider it synonymous with "secularist".
Sharia & the Military
The draft keeps Article 2 which says the "principles" of Islamic law are the basis for legislation. The sentence has been in all Egyptian constitutions since the 1970s, but the new charter removes a Morsi-implemented provision that could have been used to enact stricter Islamic law.
The constitution also boosts the army's powers by giving it the priority to name the defence minister over the next two presidential terms.
The article has been criticised by rights groups who claim that the new charter does not ensure any level of transparency for the armed forces' budget or its economic empire, including construction, road building and so on.
The constitution gives more power to the police with the creation of a council that protects the police force from civilian oversight.
The draft empowers the president, giving him the right to appoint a prime minister and the parliament two chances to support the president's choices or be disbanded.
The parliament can also impeach an elected president and prosecute him over a list of crimes.
Freedom of belief and women's rights
While the Morsi-era constitution said freedom of belief was "preserved" and faith was restricted to "believers in heavenly religions" (Islam, Christianity and Judaism), the military-backed draft says the freedom of belief is "absolute".
The draft also protects equality between men and women and forces the state to take necessary measures to guarantee women's representation in legislative councils and other public appointments. It obliges the state to provide protection to women against violence.
The constitution bans political activity based on religion – an explicit blow to the Muslim Brotherhood (already classified as a terrorist organisation) and the ultraconservative al-Nour Salafi party.
However, a representative of the Salafi party said its supporters will vote "yes" at the referendum.
The draft says the state is bound to all international agreements and gives authorities 24 hours for those arrested to be referred to interrogators where a lawyer must be present. The right for detainees "to remain silent" is ensured.
The draft also prohibits "forced displacement," which Coptic Christians and other minorities suffered as a result of sectarian tensions or government expansionist plans.
AP contributed to this report