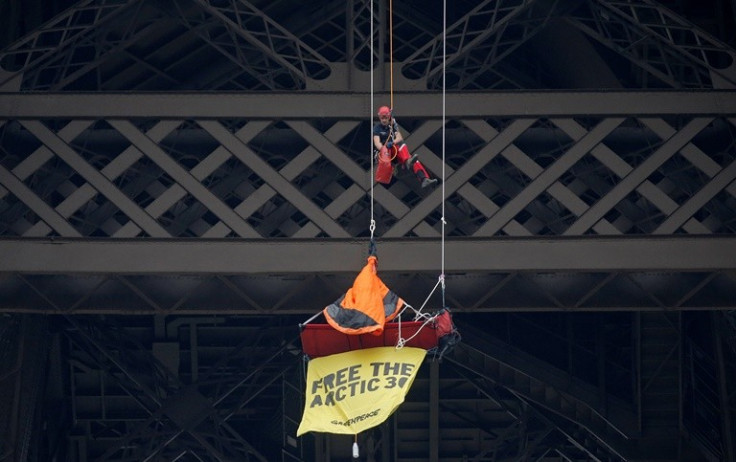 A daredevil activist from the environmental group Greenpeace today scaled the Eiffel Tower in Paris in protest at Russia's continued detention of the so-called "Arctic 30", who were arrested when their vessel was impounded by Russian authorities on 18 September.
Greenpeace ship the Arctic Sunrise was in the Arctic near Murmansk to protest against Russian oil drilling operations. A total of 28 activists and two journalists were arrested and charged with "hooliganism", which carries a maximum jail term of up to seven years.
It had originally been feared they would be charged with piracy, for which penalties are even more severe, but President Putin dismissed the "piracy" claims personally, saying it was "completely obvious" the activists were not pirates.
Today's Eiffel Tower protester was suspended in a tent for two hours before firemen brought him down. The tower was closed to visitors for the duration of the protest. In a co-ordinated campaign, posters on the Paris Metro depicted a small dinghy carrying protesters alongside a massive oil rig with the words: "They are powerful. We are determined."
The protest comes ahead of the meeting between French Prime Minister Jean-Marc Ayrault and his Russian counterpart President Putin next week.
Cyrille Cormier of Greenpeace France said: "We're here to ask the French government to do everything in their power to get the release of the 28 activists and two journalists who have been in jail in Russia for 38 days."
One of those arrested in the Arctic is Kieron Bryan, a 29-year-old freelance videophotographer from Devon. Bryan, who has worked for The Times, Mirror and Current TV, was employed on a short-term basis by Greenpeace to document their Russian campaign.
The Russians have faced widespread criticism for their imprisonment of Bryan, whose mother recently made an emotional appeal for his release. Elsewhere, 11 Nobel prize-winners, and celebrities including Damon Albarn and Jude Law have also lent their support to the campaign to free him immediately.
Four other Britons are among those being held in Russia: Frank Hewetson; Anthony Perrett; Alexandra Harris; and Iain Rogers. The prisoners are all being held in Murmansk and have complained of harsh conditions.