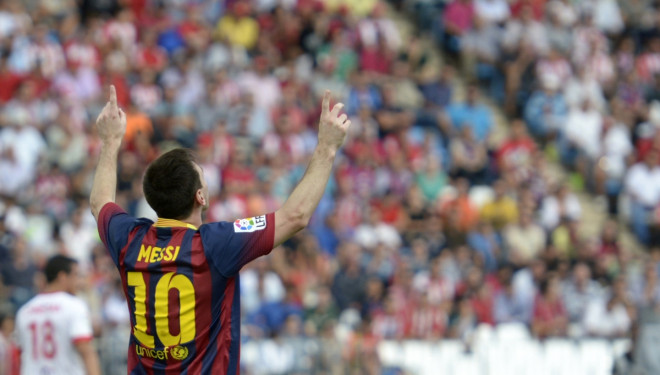 Barcelona can still dream of La Liga thanks to stars as Leo Messi, whose performance in El Clasico resuscitated the Catalans and renewed their fight for the La Liga title.
Tata Martino's side, who have been harshly questioned for their supposed loss of identity, proved that they cannot be written off and the Blaugrana cycle is not at an end.
The result left surprise package Atletico Madrid atop the La Liga table, level on points with Real Madrid and one point above the Catalans, who now have 69 points after winning at Bernabeu.
Though it is not very usual for Catalan and Spanish sport press, they have agreed on one point: La Liga is alive. They also heaped praised the Argentine –especially the Catalan press - as he sealed a brilliant performance with a hat-trick that helped his side beat Real Madrid with a 4-3 victory at Santiago Bernabeu.
Marca's headline is "La Liga begins". The newspaper writes that "Barca revived at the Bernabeu as they immersed themselves in contention for the league title after winning an exciting Clasico.
"The triumph relaunches Barca's options and sows doubts about Real, who have not been able to beat either the Catalans or Atletico".
AS, meanwhile, described the game as a "football storm" with "three penalties, seven goals, one sending-off and a lot of emotion." They also emphasised that El Clasico put Atletico on top after their victory over Betis.
Messi is the centre of everything for the daily newspapers published in Barcelona. Sport says that a magesterial Messi resuscitated Barca as he sealed a hat-trick and one assist, leading the Catalans to the triumph.
Mundo Deportivo similarly heaps plaudits on the Catalans, with the word "delirium" along with an image of Messi kissing his Barcelona badge. The report adds that "Messi and Iniesta leads spectacular Barca".
Catalan newspaper El 9 is full of praise for the defending Spanish champions and their star player, writing: "Messi starred with a hat-trick in a great victory in a classic at the Bernabeu and Barca fight for the league, standing just a point off Real Madrid and Atletico."
The general feeling is that neither Madrid were that good now Barça that bad, and all agree La Liga is more alive than ever with only nine games left.