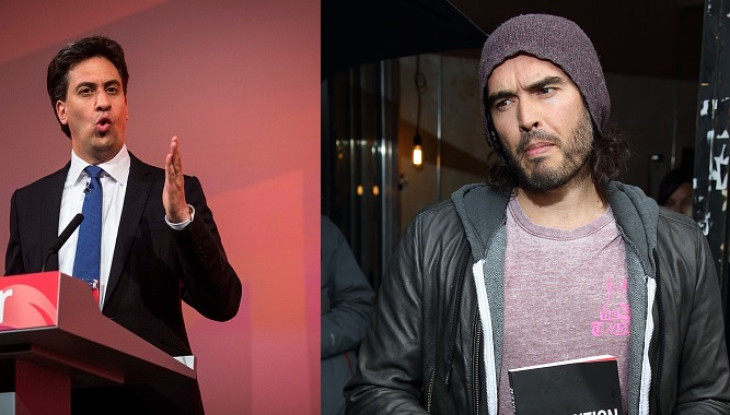 Russell Brand is today expected to publish a video interview with Ed Miliband, sparking speculation the comedian could endorse the Labour leader.
Brand has previously urged the electorate to shun the ballot box and instead start a "revolution" to remove the Westminster class.
His YouTube channel has more than one million subscribers tuning in to his "Trews" clips, 10-minute videos where Brand tackles an issue in the news.
David Cameron today dismissed Brand as a "joke", and given the comedian's ire towards the establishment, the interview could backfire on Miliband, who once said of Brand's ideology: "I definitely want people to vote...but it's really important that we engage people in the election."
IBTimes UK looks at five questions Brand could have asked the potential prime minister-in-waiting.
Ed, is there anything I can do to persuade you not to vote?
Brand thinks the best way to kick-start a revolution is not to vote at all and has said the election is "irrelevant". Maybe the actor used his time with Miliband to convince the party leader that his vote was redundant and he shouldn't bother casting it.
What is it about you and pockets? First it was the unions, now Nicola Sturgeon... are they comfortable?

Upon his election as Labour leader in 2010, Miliband was painted as the traitor brother of David who was in the pockets of the unions.
Christened Red Ed after supposedly lurching the party to the left, Miliband now finds himself portrayed by the Conservatives as being at the behest of the Scottish National Party and its leader Nicola Sturgeon.
What do you think of Katy Perry's first album?
During an appearance on Desert Island Discs, Miliband selected tracks including Robbie Williams' Angels, A-ha's Take On Me and Hubert Parry's Jerusalem.
This would be an opportunity for Miliband to appeal to the young vote, while Brand would be well placed to know if Miliband was being honest.
In return for my 1,084,608 YouTube subscribers – and potential voters – can I be excluded from the mansion tax?
One of the ways Miliband would plug the NHS funding gap would be by implementing a mansion tax on homes valued above £2m.
In return for Brand's legion of fans, Miliband might be willing to waive his landlord's levy in a confidence and supply deal that would see Labour regain Downing Street (worth £6.3m, according to Zoopla).
How will you be marking the fourth anniversary of #EdBallsDay?

All eyes are on shadow chancellor Ed Balls' Twitter feed on the fourth birthday of that momentous contribution to political discourse that was..."Ed Balls".
Brand, who once called Balls a "clicky-wristed snidey c***", clearly isn't a fan, but his line of questioning could give viewers a glimpse into Miliband and Balls' relationship.