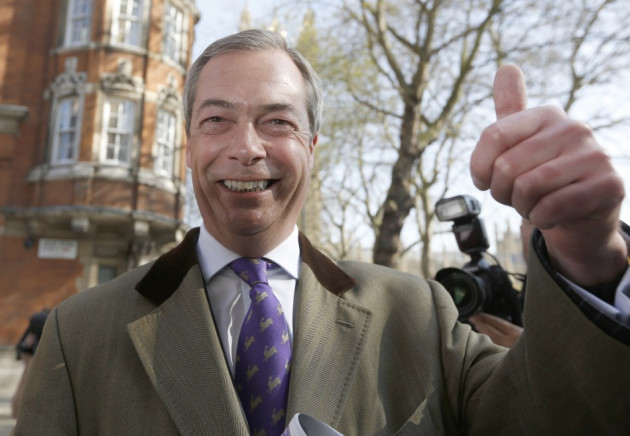 Ukip scooped a quarter of all votes cast as Nigel Farage's party continued its surge and he declared that the election results meant that Ukip was now Britain's "third party".
The Tories lost 335 council seats, more than the 291 lost by Labour under the deeply unpopular Gordon Brown.
But it was not a good result for Ed Miliband either, who needed to win around 300 seats to underline his credentials as a leader capable of winning the next General Election.
In the end, Labour fell just short of that figure, but did make up all the 2009 losses.
It was a sorry election for the Liberal Democrats after Nick Clegg's party lost 123 seats and even finished behind the BNP in the South Shields parliamentary by-election.
Ukip's dramatic success still failed to hand the party control of a single council.
In Lincolnshire alone, there are now 16 councillors for Ukip. Yet Ukip still has fewer county councillors than unaffiliated independents and Liberal Democrats.
Farage remained bullish about the overall results. He said: "We've been abused by everyone, the whole establishment, and now they're shocked and stunned.
"This is a real sea change in British politics."
Conservative Prime Minister David Cameron was forced into a U-turn on his attitude towards Ukip by results which were not disastrous, but were not good either.
But they did force him to reach out to a party he previously dismissed as "fruitcakes and closet racists."
Ten councils under Tory control fell, included Cambridgeshire and Oxfordshire. Overall turnout for the 34 elections fell to 31%
A conciliatory Cameron said: "It's no good insulting a political party that people have chosen to vote for.
"Of course they should be subject, and they will be subject, to proper scrutiny of their policies and their plans. But we need to show respect for the people who have taken the choice to support this party. And we are going to work really hard to win them back."
Labour did not do quite well enough to mark out leader Ed MIliband as the next PM in 2015 although his party grabbed Derbyshire and won back Nottinghamshire from the Tories.
Miliband admitted that more work was needed to repair Labour's reputation.
"I'm pleased with the gain. I also recognise the vote for Ukip, and the two thirds who didn't vote," he said.
"There are still lots of people saying: 'Can anyone turn this country around?'" he said. "I believe Labour can.
"We're carrying on that work to convince people we can."