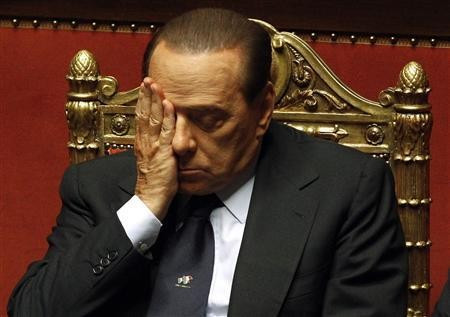 On Tuesday, 14 December 2010, Silvio Berlusconi, the controversial Prime Minister of Italy, survived a confidence vote in both houses of the Italian parliament. He won by a comfortable margin in the upper house, the Senate, but in the lower, the Chamber of Deputies, his majority was a wafer-thin three votes, 314 to 311.
Very small though his majority was and undoubtedly as relieved as his opponents were disappointed, Mr Berlusconi could, with some justification, judge this to be a remarkable victory snatched from the jaws of defeat. A defeat that this time had been more widely predicted, for during August 2010, his one-time ally and a former Deputy Prime Minister in one of his earlier administrations, Gianfranco Fini, broke away to form the new Future and Freedom Party taking 30 Deputies and former Berlusconi supporters with him.
Mr Fini, currently President of the Chamber of Deputies, had by August this year become highly critical of Mr Berlusconi, and not for the first time. On forming a new party however, the break had become irreconcilable and many expected the Prime Minister to lose by 20 votes or more.
The fact that Mr Berlusconi has managed to pull through his fourth no-confidence vote since August 2010, has restored much needed confidence to the man and his supporters whilst being seen as a serious defeat for Mr Fini, the only heavyweight opponent of what many in all parties view as an unsatisfactory status quo.
It was quickly obvious that many in the new Future and Freedom Party had wandered back to the Berlusconi camp, at least when knowing the loss on a confidence vote would likely bring down the Government This is no endorsement of Mr Berlusconi and his very public faults but largely reflects the many divisions and complexities in Italy's triple layered, multi-party system - President (Giorgio Napolitano) and an executive Council of Ministers, and the legislative Senate and Chamber of Deputies.
There are other components of Italian democracy that add complications and need to be considered. These range from a minimum voting age for the Chamber of Deputies of 18 but for the Senate 25; very strong regional forces with a distinct North (prosperous) - South (relatively poor) divide; and the constitutional requirement for parliamentary representatives for some 2.7 million Italians who have made their home permanently abroad.
Pragmatism over principle, the Italians want a strong leader and for the moment Silvio Berlusconi is that man.
Silvio Berlusconi was born in 1936 and has served as Italy's Prime Minister on three occasions: from 1994 to 1995; 2001 to 2006; and since May of 2008 to the present. He is the leader of the centre-right People of Freedom Party which he founded during the first-half of 2009 on the dissolution of his previous creation, Forza Italia.
Born in Milan and from a middle-class background, Mr Berlusconi is a man of enormous wealth, estimated at $9 billion. He made his mark and first fortune initially in the building and construction industry and then, in the 1970s, the media, especially television. Naturally, he has made use of numerous connections, business, political and through his membership of the former P2 Masonic Lodge.
Presently he controls about a half of Italy's television, and has substantial interests, directly or through close connections, in publishing, cinema, banking, insurance and other business sectors. For football fans, he is the owner of AC Milan.
Coming relatively late to politics, he founded with some half dozen others, Forza Italia (Forward Italy) in January 1994 after a decade of very serious scandals (Tangentopoli) swept away Italy's "First Republic". In a country with a less splintered party system, he could reasonably have expected to remain as Prime Minister for the more conventional four or five year terms which are the norm in the likes of the UK, but....this is Italy!
It is probably true to say that of late, Mr Berlusconi has become one of the most famous politicians in the world for all the wrong reasons. Yet weakened as he is with four government ministers recently resigning and "the all-too-familiar sex scandals that have dotted his tenure" and even his friends considering him a liability, he manages to pull through.
On 17 November 2010, Tana de Zulueta writing in the Guardian, sums up the situation after briefly outlining the Prime Minister's problems: "...Good news, you might think, for the opposition. On the assumption of course, that everyone knows who is part of it and who its leaders are.
"Some Democratic Party members have found themselves openly wondering why the former fascist (Gianfranco) Fini sounds more progressive these days than some of their own more conservative MPs. Berani's Democratic Party is the result of a merger between the biggest, and more moderate, chunk of Italy's former Communist Party...and what was left of Italy's once dominant Christian Democrat Party...Political infighting has seen out two party leaders in three years...The Party is currently divided on the most urgent issue of the moment: who should replace Berlusconi as PM if he is forced out of office?"
Mmm. Umberto Bossi of the Northern League!?