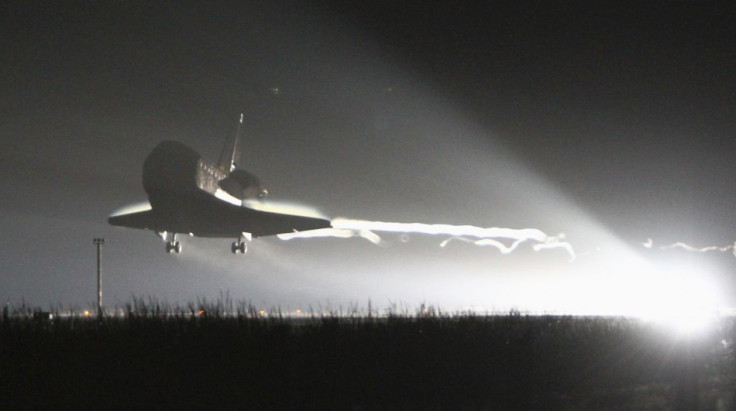 Space shuttle Endeavour has landed in Florida and brought its 19-year operational career to a close.
The vehicle hove into view through the night skies above Kennedy Space Centre just after 0230 EDT (0635 GMT), bringing its six-man crew home after a 16-day mission to deliver a premier science experiment to the International Space Station on NASA's second-to-last shuttle flight.
Commander Mark Kelly - whose wife, Congresswoman Gabrielle Giffords, remains in rehabilitation after being shot - glided the 100-tonne spaceship onto the runway to complete Endeavour's 25th flight.
"122 million miles flown during 25 challenging spaceflights," mission control told Kelly and his crewmates, "Your landing ends a vibrant legacy for this amazing vehicle that will long be remembered. Welcome home, Endeavour."
Kelly replied, "It's sad to see her land for the last time but she really has a great legacy."
Endeavour spent just over 11 days attached to the ISS following its launch on 16 May. The ship had gone to the platform to install the Alpha Magnetic Spectrometer (AMS), a seven-tonne detector designed to survey the blizzard of high-energy particles that are fired at Earth from all corners of the cosmos.
Scientists hope that by characterising these cosmic rays, they can learn more about the origins and make-up of the Universe.
Endeavour was the youngest member of NASA's shuttle fleet, built as a replacement for the Challenger aircraft which was destroyed on launch in 1986.
The vehicle made its maiden flight on 7 May, 1992. On completion of this 25th and final mission, it has spent a cumulative 299 days in orbit, travelling more than 122.8 million miles in the process.
The United States is retiring its three-ship fleet due to high operating costs and to free up funds to develop new spacecraft that can travel beyond the space station's 220-mile-high orbit.
Endeavour's sister ship Atlantis was yesterday moved into position at Launch Pad 39A, where it will be prepared for NASA's final planned shuttle mission, a supply run to the space station scheduled for liftoff on July 8.