This may seem an odd way to begin previewing the last quarter final, between England and Italy, of the 2012 European Championships but a recent Daily Mail report quoted Barcelona and Argentina star Lionel Messi as criticising teams who played with an overly defensive mentality. The diminutive forward claimed he played football to enjoy himself and not win trophies and urged other teams to follow suit.
Whether or not Messi is still smarting from losing the Champions League to Chelsea and the Spanish League to Real Madrid, the point is his comments are another in a long debate between the idea of functional football and the razzle-dazzle, tiki-taka brand that Barcelona and Spain, among a few other sides, espouse. Is one better than the other? Ought one side to be labelled anti-football because they defend well? Is "parking the bus" also a part of football and something a team lacking in attacking ability will only naturally do?
We bring these points to the fore because Sunday's quarter final is between one country credited with almost inventing defensive football and another that seems to have become a staunch convert.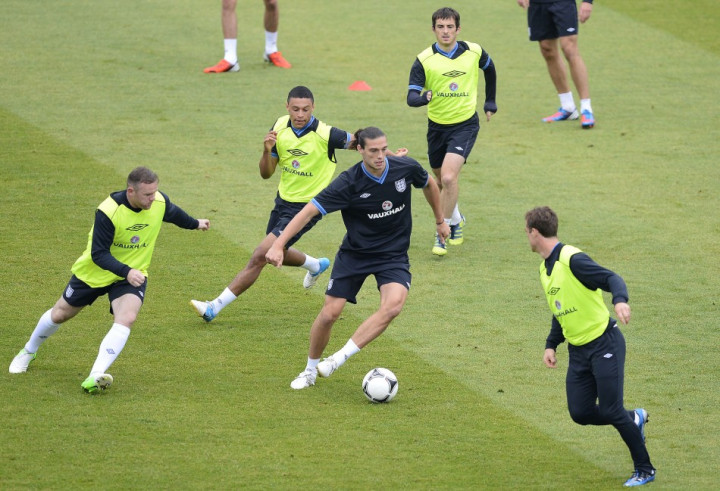 The Build-Up:
Roy Hodgson and Cesare Prandelli will match wits on Sunday evening at the Olympic Stadium in Kiev to decide who earns the right to face Germany in the semi final of the 2012 European Championships.
Much of the talk, all week long, has been about comparing England and their newfound defensive resilience under Hodgson to the traditionally defensively solid catenaccio approach of Italian football. Juventus defender Leonardo Bonucci, who is set to start the game against England after club mate Giorgio Chiellini suffered a thigh injury, and former Italian international (presently Swindon Town manager) Paolo di Canio, have both been quoted in the build-up to the game as suggesting Hodgson's England are now the new Italy of defensive football.
"England have become more like an Italian team thanks to Capello and other Italian managers in the Premier League. They have improved a lot over the last two years. They are defending better and they play on counter-attacks. So we really have to be careful against them," Bonucci said in a report by the Telegraph, while di Canio told BBC Sport Hodgson was "an old fox" and England looked like an Italian team from the 80s.
There is perhaps some truth to these assertions. Through the group stage games (against France, Sweden and Ukraine) England enjoyed less than 45 percent possession, on an average. Their overall possession stat is lower than Italy's; they have completed fewer passes than Italy; entered the penalty box fewer times than Italy; have fewer shots from inside the box than the Italians, indeed have fewer shots (on target or otherwise) than Sunday's opponents.
However, Hodgson's side scored five goals to Italy's four, in the group stages and, most impressively, the BBC quotes Prozone statistics as suggesting that of the eight teams to make it to the quarter final, England are the second most effective team, in terms of converting possession into goals - they take 17 minutes and 15 seconds of possession to score, which is second only Portugal's 15 minutes and 44 seconds and is better than Germany's 20 minutes and 37 seconds. Italy take a predictable 21 minutes and 39 seconds.
These are, of course, statistics and may not be worth much except as specific indicators of past form and a more general idea of what could happen. Joachim Low made the same point after watching Germany dismantle Greece 4-2.
"England are much better under Roy Hodgson than in 2010. They are much better organised, they counter-attack fast. Roy in a short time, and he is known for this, has really built a good, compact team and got them ready. They are not so open any more, they are not as divided as they were in 2010 and they really play well as a team," Low said in a Telegraph report. However, he also pointed out Italy were not a side to be dismissed either, adding they were equally organised and the presence of strikers like Mario Balotelli, Antonio Di Natale and Antonio Cassano made them dangerous.
Team News and Tactics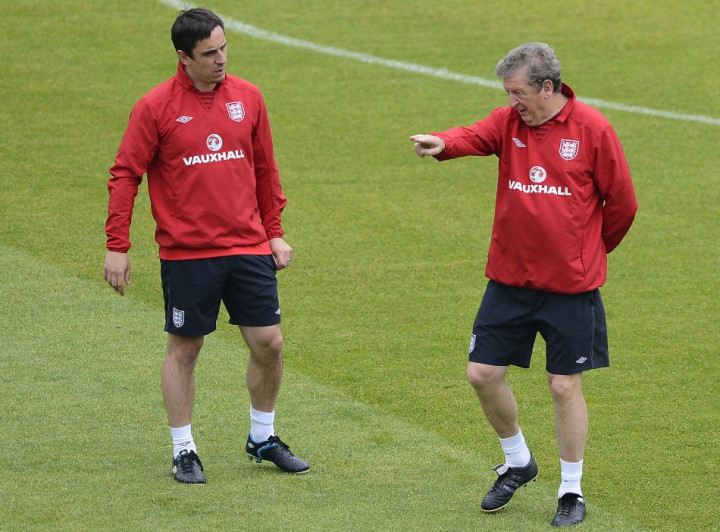 England:
Tactically, England will continue doing what they have done best so far this tournament - play with remarkable team spirit and fight for every ball. An earlier IBTimes UK report quoted Spurs' Scott Parker, among others, as praising the team spirit in the dressing room and England will have to rely on this to get them through.
The return of Manchester United striker Wayne Rooney, after suspension, gave the English a far sharper attacking outlet and Hodgson will once again rely on the volatile forward to deliver for his country. Rooney will likely be partnered by United team mate Danny Welbeck, which means Liverpool's Andy Carroll and Arsenal's Theo Walcott will continue to be used as super subs. Hodgson is unlikely to change anything else and given he has no injury or suspension problems to consider, is expected to name the same team that beat Ukraine 1-0.
There are two points the coach will have to consider very closely. The first is, of course, Mario Balotelli. Should the controversial but talented 21 year old Manchester City striker play, his club team mate Joleon Lescott will no doubt be tasked with limiting his influence on the game. Balotelli has the ability to win the game for his country but his mental fortitude could be called into question, particularly if Lescott is instructed to push his buttons - much like Cristiano Ronaldo did Rooney's at the 2006 World Cup.
The other point is the timing of the introduction of Walcott and his club team mate Alex Oxlade-Chamberlain. Italy do not have traditional wide men (neither, really, do England but Walcott and the Ox's pace is a potent weapon) and the presence of Juventus midfielder Andrea Pirlo in the centre of the park means much of their play will come through him. This opens up the possibility that James Milner, Ashley Young and later Walcott and the Ox could exploit the wings and attack full backs Ignazio Abate and Federico Balzaretti. Parker and Steven Gerrard, meanwhile, will have their task cut out - stop Pirlo, while also pushing forward (the Liverpool captain, at least) to support Rooney and Welbeck.
Cole, Gerrard, Milner, Oxlade-Chamberlain and Young are all one yellow card away from missing the semi-final, should England qualify.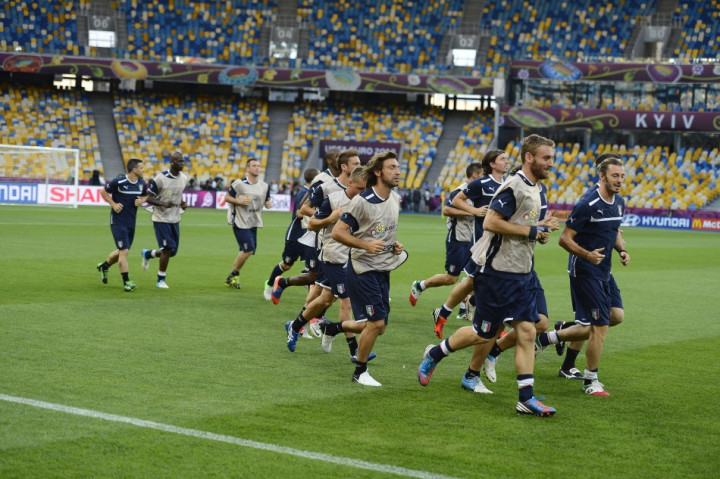 Italy:
Cesare Prandelli, meanwhile, will miss Chiellini and could also have to do without Thiago Motta in midfield. Should the latter miss the tie, then new AC Milan signing Riccardo Montolivo could be called upon. The coach is almost certain to start with Balotelli and Cassano up front, particularly after the former's stunning goal in their last match.
Prandelli's formation of choice tends to vary, drifting from a modified 4-3-3 to an equally modified 4-3-1-2, in which, lacking outright wingers, he tends to rely on Pirlo linking with the trequartistas behind his two strikers. Pirlo and Spain's Xavi are easily two of the most consummate passers of the ball in the modern game and, like the Spanish midfield, Pirlo will rely on Roma's Daniele De Rossi and Juventus' Claudio Marchioso to shield him from the opposition while he picks his passes. The three-man midfield is also similar to Spain's because like Real Madrid's Xabi Alonso does for Spain, Marchioso will make forward forays as well and considering it was Alonso's goals that confirmed his country's place in the semi final, England should be wary of late arrivals in their penalty box.
In Buffon Italy have one of the world's best keepers and in Andrea Barzagli and Bonucci two top class centre backs. There are question marks over their full backs though; both Abate and Balzaretti are competent but not necessarily world-class and they will need to be on their guard to stop Young and co from drifting past them too easily.
Much of whatever success Italy will hope to enjoy will depend on Balotelli, Cassano and Motta (or Montolivo) playing well and creating enough distraction, with their movement off the ball, to both give Pirlo passing opportunities and pull Terry and Lescott out of position.
Balotelli, Balzaretti, Bonucci, De Rossi, Maggio, Montolivo, Motta and Buffon are all one yellow card away from missing the semi-final, should Italy qualify.
Facts
England and Italy have played each other 22 times, with the former winning seven times and drawing six games
Italy have won two previous meetings in major competitions; they won 1-0 in the group stages of the 1980 European Championship and 2-1 in the third place play-off for the 1990 World Cup
England have won only one of six previous penalty shoot-outs in major tournaments; they beat Spain in the quarter finals of Euro 96
The last time these sides met was in 2002 in Leeds. Italy won 2-1 and Gianluigi Buffon is the only player now playing to have played in that game
Andrea Pirlo made 2,778 successful passes for Juventus this season - the highest tally of any player in one of the top European league
Italy have only ever lost two (out of nine) quarter final games; both were in penalty shoot outs
Where to Watch Live
You can follow the match live from 7 pm (BST) on BBC One and BBC One HD, as well as the BBC Sport Web site and BBC Radio 5 live and the official UEFA Web site.