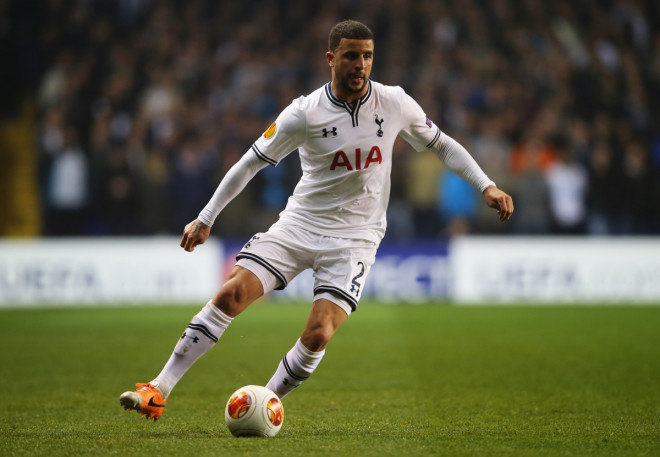 England manager Roy Hodgson has grave concerns over Kyle Walker's availability for the World Cup with the Tottenham Hotspur defender set to miss the remainder of the season with a pelvic injury.
Walker has missed the last seven weeks of action and has been unable to train with the Spurs first-team, meaning he is a major doubt for the summer finals.
Andros Townsend was ruled out of the World Cup on Wednesday after confirmation he will undergo ankle ligament surgery and miss the next 10 weeks and Hodgson is set to be without a second Tottenham player though is still awaiting full clarification over his absence.
"We haven't been told for certain that he will be out for the next six to 10 weeks but we are concerned that it has been a long time he has been out," Hodgson said.
"During that time he has not been able to do any training with the rest of the [Tottenham] team as far as I know. I know he has had another injection. We are waiting to find out whether that helps. He has not been fit for a long time."
Liverpool full-back Jon Flanagan and Southampton's Nathaniel Clyne are among the contenders to replace Walker in the 30-man preliminary squad which is set to be announced on 12 May, following the final day of the Premier League season.
The 23 year old is expected to miss Tottenham's final two games of the campaign and his sustained absence could all but end his hopes of being included in Hodgson's squad.
Joining Theo Walcott and Jay Rodriguez in being ruled out of the World Cup is Townsend, who despite helping England to the finals with impressive performances against Montenegro and Poland will be forced to watch from home.
"I am very disappointed for Andros," Hodgson said of the Tottenham wideman. "He had a fantastic debut.
"I have been a bit disappointed he has not had as much playing time over recent months as I was hoping he would get but to see him ruled out like this with a serious ankle injury is a cruel blow.
"My thoughts are very much with him but he is young. There will be lots of other opportunities although I am sure that won't make him feel better at the moment because his chance to get into the squad has been taken away from him."